About the Journal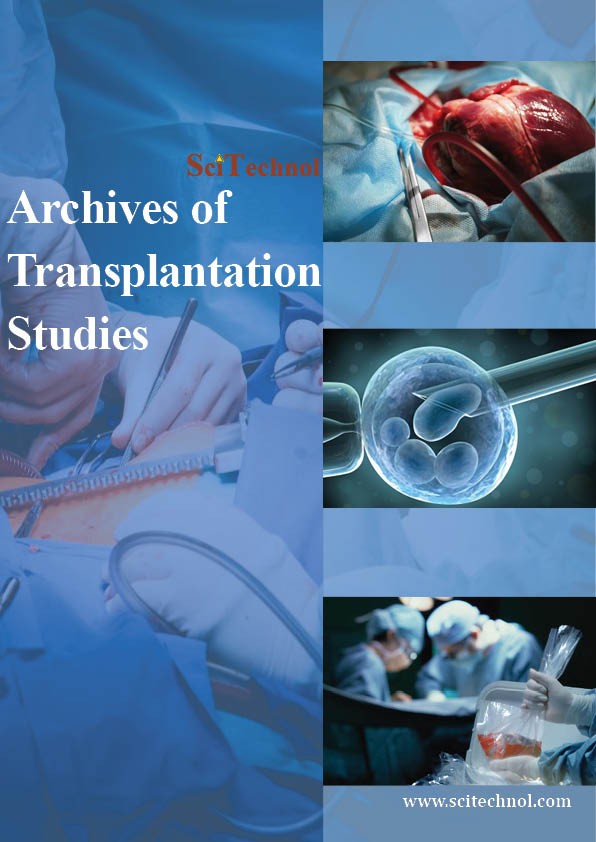 Archives of Transplantation (AT) is a peer-reviewed scholarly journal aims to publish articles on clinical and experimental based Organ Transplantation Research. The journal encompasses current research advancements in the field of Transplantation Medicine including surgical methods adopted in transplantation of tissues and organs, postsurgical medical treatments and immunological complications. The journal provides a platform for the exchange of scientific information related to transplantation among researchers, surgeons, practitioners of medicine and the public.

Archives of Transplantation promote novel findings and innovations in the field of Transplantation Surgery, therapeutic applications of transplantation techniques and their clinical efficacy in the treatment of chronic diseases.

Archives of Transplantation focuses on the topics that include:
Organ Transplantation
Types of Transplantation
Organs & Tissues for Transplantation
Organ Donation
Transplantation Techniques
Transplantation Immunology
Ethical Concerns
The journal accepts original manuscripts in the form of research article, review article, short communication, scientific correspondence, letters to editor and editorials for publication. All the articles published are open access and can be easily accessed online without paying any subscription charges.

All the submitted articles are screened through a peer review system. Approval of at least two independent reviewers is mandatory for the acceptance of the manuscript. The whole process of review and article processing can be easily tracked online.
Transplantation
A surgical procedure in which an organ, cell or tissue are removed from one body and implanted in to another body. Organs and/or tissues that are transplanted must be histocompatible with that of the recipient to prevent immunological rejection.
Hair Transplantation
Hair Transplantation is a surgical technique in which hair follicles are transplanted from one part of the head to another part where the hair is thinning. The technique is primarily used to treat male pattern baldness.
Domino transplants
Domino transplants A rare transplant procedure in which a donor's Organs are transplanted into second person whose, in turn, is transplanted into a third person as the organs still functions well.
Organ donation
Organ donation is a medical procedure in which an organ or tissue is surgically removed from one person (the organ donor) and placed it into another person (the recipient). This removal must follow legal requirements, including the definition of death and consent.
Xenotransplantation
Xenotransplantation is procedure that involves transplantation of living cells, tissues or organs from one species to another.The term covers transplantation of solid organs (such as kidney or heart), tissues (such as skin) or clusters of specialised cells (such as brain cells or the pancreatic cells that produce insulin).
Transplant rejection
Transplant rejection is a process in which recipient's immune system rejects the transplanted organ or tissue. Transplant rejection can be lessened by determining the molecular similitude between donor and recipient and by use of immunosuppressant drugs after transplant.
Stem cell Transplantation
A procedure that replaces unhealthy blood-forming cells of a person with healthy cells. Before the transplant is done, the patient receives high-dose chemotherapy and/or radiation therapy to destroy diseased cells.
Transplant infections
Infections are the main cause of hospitalization in transplant recipients.Risk factors that predispose to infections in recipients of organ transplantation can be categorized as being present before transplant within the recipient or donor and those secondary to intraoperative and posttransplant events.
Transplant immunology
The immune system plays a critical role in transplantation. The study of the immune response that occurs when an organ or tissue is moved (grafted) from one individual to another. Rejection of a transplant occurs in instances where the immune system identifies the transplant as foreign, triggering a response that will ultimately destroy the transplanted organ or tissue.
Transplant laws
Many Organ Transplant laws in different countries are made and amended to reduce Organ trafficking and to make punishment more stringent for commercial dealings in organs. Both developing and developed countries have forged various policies to try to increase the safety and availability of organ transplants to their citizens.
Organ Trafficking
Organ Trafficking is a form of widespread organized crime where inner organs of living or deceased persons are illegally obtained and traded for the purpose of transplantation.This international trade in human organs is on the increase fuelled by growing demand as well as unscrupulous traffickers.
Bioethical and Social Issues
Recent technological and medical advancements in organ transplantation have saved the lives of many, However vital organs failure and the inadequate supply of organs has created a wide gap between organ supply and organ demand, which has resulted increasing number of deaths while waiting. These events have raised difficult ethical and legal challenges for the transplant community and society which include the fundamental morality of transplanting body parts, the ethics of organ procurement and allocation.
Immunosuppressants
Immunosuppressant drugs supresses the strength of the body's immune system, which are primarily used to make the body less likely to reject a transplanted organ and also in the treatment of autoimmune disease . Another term for these drugs is anti-rejection drugs
Artificial organ transplantation
Artificial organ transplantation is a surgical operation in which an engineered device or tissue (artificial Organ) is implanted in to human to replace a failed or damaged organ (natural) so that the patient may return to a normal life as soon as possible.
Fast Editorial Execution and Review Process (FEE-Review Process):
Archives of Transplantation is participating in the Fast Editorial Execution and Review Process (FEE-Review Process) with an additional prepayment of $99 apart from the regular article processing fee. Fast Editorial Execution and Review Process is a special service for the article that enables it to get a faster response in the pre-review stage from the handling editor as well as a review from the reviewer. An author can get a faster response of pre-review maximum in 3 days since submission, and a review process by the reviewer maximum in 5 days, followed by revision/publication in 2 days. If the article gets notified for revision by the handling editor, then it will take another 5 days for external review by the previous reviewer or alternative reviewer.

Acceptance of manuscripts is driven entirely by handling editorial team considerations and independent peer-review, ensuring the highest standards are maintained no matter the route to regular peer-reviewed publication or a fast editorial review process. The handling editor and the article contributor are responsible for adhering to scientific standards. The article FEE-Review process of $99 will not be refunded even if the article is rejected or withdrawn for publication.

The corresponding author or institution/organization is responsible for making the manuscript FEE-Review Process payment. The additional FEE-Review Process payment covers the fast review processing and quick editorial decisions, and regular article publication covers the preparation in various formats for online publication, securing full-text inclusion in a number of permanent archives like HTML, XML, and PDF, and feeding to different indexing agencies.