About the Journal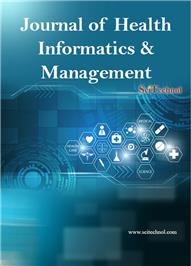 Journal of Health Informatics & Management is a multidisciplinary, peer-reviewed, open access, scholarly journal that publishes scientific manuscripts related to the application of health information technology in promoting the delivery of high quality health care services. The journal aims to create awareness regarding the use of Informatics, Technology and Electronic strategies in Clinical documentation, treatment, and patient engagement resulting in positive health outcomes.
Journal of Health Informatics & Management aims towards worldwide dissemination of original scientific manuscripts on the various aspects of medical informatics, clinical and nursing informatics. The study of health informatics demands an integrative approach of information technology, computer sciences, behavioural science and management studies. The information stored and propagated through health informatics will help in the practice of primary care, preventive medicine, dentistry, pharmacy, alternative medicine and furtherance of biomedical research methods using innovative technologies.
Submit manuscripts at https://www.scholarscentral.org/submissions/health-informatics-management.html or an e-mail attachment to the Editorial Office at [email protected]
Journal of Health Informatics & Management blazons manuscripts related to recent innovations in the field of medicine, clinical practice and technological advances to increase capacity for inter-organizational data sharing and mining. The journal provides an excellent platform for practitioners and administrators to exchange of information relating to advancing our understanding of technology and electronic approaches in medical research and documenting health outcomes.
Health Sciences
Health sciences is an multidisciplinary field which is a combination of bio-medical, psycho-social, organizational and many social aspects like disease, health care and health. It focuses on the design and evaluation of medical-technological, behavioural and organizational interventions and knowledge to improve patient centered health care and health, and ultimately to improve the quality of life.
Health Care Informatics
Health Care Informatics is the study of methods for the management of health information and resources. It is a multidisciplinary field that uses health information technology (HIT) to improve health care via any combination of higher quality, higher efficiency. It deals with the devices, resources and methods required to enhance the procurement, storage, retrieval, and use of information in health and biomedicine.
Medical Informatics
Medical Informatics is defined as the study, contraption and application of structures and algorithms to improve delivery and understanding of medical information.It includes skill in both medical and computer science. Medical and Computer science comes together in an effort to improve healthcare and patient outcomes. Professionals in this field draw expertise from both the fields to use technology to its best in patient care, research and clinical settings.
Clinical Informatics
Clinical Informatics deals with the study of Information technology (IT) and application on how can it be applied to healthcare field. It also includes the practise of an information based approach to healthcare in which the data must be structured so that it can be effecively recapture and can be used in a report or evaluation.
Health Information Management
Health Information Management is applied to healthcare and health. It is a practise of achieving, analysing and protecting traditional and digital medical information in order to provide quality patient care. With the widespread computerization of health records, traditional (paper-based) records are being replaced with electronic health records (EHRs).
Public Health Systems
Public Health Systems is defined as the art and science of preventing diseases, lengthening life and advertising human health through coordinated efforts. It also involves public, private and voluntary entities that dedicates to the delivery of public health services. The focal point of public health system is to improve health and quality of life through preventing and analysing diseases and other physical and mental health conditions.
eHealth & Technology
eHealth & Technology is a practice which refers to the use of electronic processes and communication technologies in healthcare. It is and single most important revolution in healthcare since the onset of modern medicine, vaccines, public health measures. The aim is to achieve stronger and more effective communication with patients and upgrade healthcare services and the entire healthcare sectors. It is all about digitizing healthcare systems and records.
Nursing Informatics
Nursing Informatics is one of the sub-speciality of health informatics which integrates the application of computer science and information science to manage the practice of nursing. NI analyses, designs and promotes the generation, management and processing of relevant data in order to use information and develop knowledge.
Electronic Health Records
Electronic Health Records is an electronic version of medical history of patients. It includes all of the key administrative clinical data relevant to the patient's care under a particular provider which includes demographics, progress note. It is a digital version of patient's chart. Electronic Health Records consists of patient-centered records that make information available to authorized users. The benefits of electronic health records include: Better health care by improving all aspects of patient care, including safety, effectiveness, patient-centeredness, communication, education, timeliness, efficiency, and equity.
Patient Care
Patient care is the medical service rendered by members of the health care profession and also non-professionals under their supervision with the objective of benefiting patient. Improvement of patient care should be the uppermost service in the minds of medical care professionals. Proper Patient care requires clinical knowledge, values and most important aspect is paying attention to quality.
Pharmaceutical Informatics
Pharmaceutical Informatics mainly focuses on medication related data and knowledge within the continuance of healthcare systems which includes Drug storage, analysis, acquisition, use and health outcomes in the delivery of optimal medication which relates to the patient care and health outcomes. It works in many practice areas of pharmacy and also in Information technologies.