Clinical Image, J Clin Image Case Rep Vol: 7 Issue: 1
A Very Rare Case of Intussusception Following Abdominal Hysterectomy
Karim Bellarabi1* and Najib Bahrou2
1Service Chirurgie A, Center Hospitalo-Universitaire Ibn Sina, Université Mohammed V de Rabat, Rabat, Morocco
2Service des Urgences Chirurgie Viscérale, Center Hospitalo-Universitaire Ibn Sina, Université Mohammed V de Rabat, Rabat, Morocco
*Corresponding Author: Karim Bellarabi
Service des Urgences Chirurgie Viscérale, Center Hospitalo-Universitaire Ibn Sina, Université Mohammed V de Rabat, Rabat, Morocco
E-mail: dr.bellarabikarim@gmail.com
Received date: 27 January, 2023, Manuscript No. CICR-23-88423;
Editor assigned date: 30 January, 2023, PreQC No. CICR-23-88423(PQ);
Reviewed date: 14 February, 2023, QCNo CICR-23-88423;
Revised date: 21 February 2023, Manuscript No. CICR-23-88423 (R);
Published date: 28 February 2023 DOI: 10.4172/CICR.1000229.
Citation: Bellarabi K, Bahrou N (2023) A Very Rare Case of Intussusception Following Abdominal Hysterectomy. J Clin Image Case Rep 7:1.
Case Description
The diagnosis of intussusception in adults is rare and challenging [1], and idiopathic intussusception of the intestine following abdominal hysterectomy is extremely uncommon. The patient presented to the emergency department with a history of vomiting and abdominal pain for 3 days. A quick clinical examination found part of the bowel protruding outside the body through the vagina.
The bowel appeared edematous and was feared to be necrotic, so she was quickly admitted to the Operating Room (OR). The patient revealed that she had undergone a hysterectomy 4 months earlier which helped us to know more about the diagnosis [2]. A median laparotomy was performed and fortunately after testing the viability of the bowel with hot serum, the affected part of the bowel was still viable so it was reintegrated by manual reduction (Figure 1).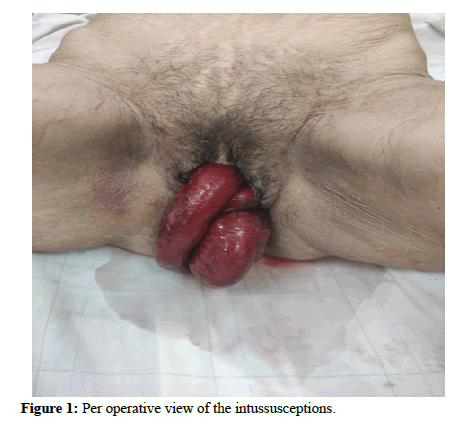 Figure 1: Per operative view of the intussusceptions.
We found that the sutures on the vagina had failed causing this intussusception so they were reattached with Vicryl 2.0 by an overjet reinforced by separate stitches. The final diagnosis was intussusception following abdominal hysterectomy. Postoperative intussusception in the adult represents a different entity than adult intussusception [2]. Twenty-seven percent of those intussusceptions occur during the immediate postoperative period. Twenty percent are related to a suture line (etiology in our case), 28% are presumably caused by adhesions, and 58% are associated with intestinal intubation [3].
References
T Azar, Berger DL (1997) Adult intussusception. Ann Surg 226(2):134-8.
Reddy NS, Rajaram P (1989) Intussusception: A rare complication following abdominal hysterectomy. Int J Gynaecol Obstet 30(3):279-81.