About the Journal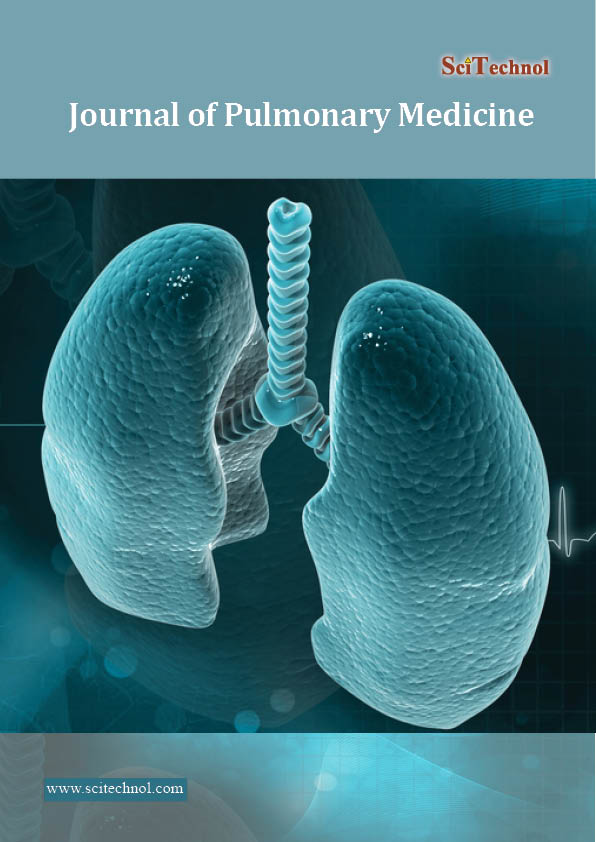 Journal of Pulmonary Medicine (PMJ) is an Open Access, online Journal dedicated to disseminate most reliable source of information on clinical studies and therapeutic advancements on pulmonary conditions and diseases, affecting lungs (Respiratory Medicine/Thoracic Medicine). The Journal aims to promote current research developments on pulmonology research pertaining to the anatomy, physiology, and pathology of the lungs encompassing the causes, diagnosis, prevention, treatments and medical procedures of diseases affecting lungs and breathing.
Intrested authors can submit manuscript via Online Submission System or send us through email attached to the manuscripts@scitechnol.com
Journal of Pulmonary Medicine mainly focuses on the following areas, but not limited to:
Lungs Biology
Respiratory System
Respiratory Diseases
Pediatric Pulmonology
Lung Diseases
Pulmonary Vascular Diseases
Lung Cancers
Chronic Obstructive Pulmonary Disease
Occupational Lung Diseases
Respiratory Infections
Respiratory Pharmacology & Medical Procedures
Lung Transplantation
Pulmonary Hypertension
Interventional Pulmonology
Thoracic Surgery
Any article pertaining to Pulmonology will be considered. Review processing is performed by the editorial board members of Journal of Pulmonary Medicine or outside experts; at least two independent reviewers approval followed by editor approval is required for acceptance of any citable manuscript. Authors may submit manuscripts and track their progress through the system, hopefully to publication. Reviewers can download manuscripts and submit their opinions to the editor. Editors can manage the whole submission/review/revise/publish process.
Lungs Biology
The lungs are organs of the respiratory system that allow us to take in and expel air. The body contains two lungs, of which one is positioned on the left side of chest cavity and the other on right side.The process of breathing in and out is known as ventilation. In the breathing process, the lungs take in oxygen from the air through inhalation. Carbondioxide produced by cellular respiration is in turn released through exhalation.
Respiratory System
The respiratory system is a biological system consisting of specific organs and structures used for the purpose of respiration in an organism. The respiratory system is involved in the intake and exchange of oxygen and carbondioxide between an organism and environment. There are three major parts of the respiratory system: the airways, the lungs, the muscles of respiration. In air breathing vertebrates like human beings , respiration takes place in the respiratory organs called lungs.
Pediatric Pulmonology
Pediatric Pulmonology is treating children with lung or breathing problems. It deals with the breath of life in all its aspects like control of breathing, sleep disorders, obstruction to airflow in the common diseases of upper and lower airways such as croup, bronchiolitis, asthma, cystic fibrosis, and bronchopulmonary dysplasia; restriction to lung function from disorders affecting the chest wall, the musculature, the nervous system, or lung tissue itself; congenital anomalies and so on.
Respiratory Diseases
Respiratory disease is a medical term that encompasses pathological conditions affecting the organs and tissues that make gas exchange possible in higher organisms, and includes conditions of the upper respiratory tract, trachea, bronchi, bronchioles, alveoli, pleura and pleural cavity, and the nerves and muscles of breathing. Respiratory diseases range from mild and self-limiting, such as the common cold, to life-threatening entities like bacterial pneumonia, pulmonary embolism, and lung cancer. The study of respiratory disease is known as pulmonology. Common respiratory disorders include: Chronic Obstructive Pulmonary Disease, Chronic Bronchitis, Emphysema, Asthma, Pneumonia.
Airway Disorders
Lung diseases are some of the most common medical conditions in the world. A number of diseases adversely affect lung function. Some impact the airways or lung tissues directly while others impede normal breathing by transforming structures around the lungs. Smoking, infections, and genetics are responsible for most lung diseases.Diseases that can affect the airways include: Asthma, COPD, Chronic Bronchitis, Acute Bronchitis, Cystic Fibrosis.
Lung Diseases Affecting the Air Sacs (Alveoli)
Alveolar lung diseases, are a group of diseases that mainly affect the alveoli of the lungs. It refers to filling of the airspaces with fluid or other material (water, pus, blood, cells or proteins). These diseases adversely affect the lung function. Alveolar lung disease may be divided into acute or chronic.
Pleural Disorders
The pleura is a thin tissue covered by a layer of cells that surrounds the lungs and lines the inside of the chest wall. The pleural space is the area between the lungs and the chest wall. Many different conditions can cause pleural problems which leads to pleural disorders like pleurisy, pleural effusion, pneumothorax, hemothorax.
Interstitial Lung Diseases
Interstitial lung disease, also known as diffuse parenchymal lung disease, is a group of lung diseases affecting the interstitium. Interstitial lung disease may be broadly categorized into known and unknown causes. Common known causes include autoimmune or rheumatologic diseases, occupational and organic exposures, medications, and radiation. Interstitial lung disease of unknown cause is predominated by idiopathic pulmonary fibrosis, a specific and progressive fibrotic lung disease, followed by the idiopathic interstitial pneumonias, such as nonspecific interstitial pneumonia and sarcoidosis.
Sleep and Ventilation Disorders
Significant physiologic changes in breathing take place during normal sleep related to alterations in respiratory drive and musculature. People often need non-invasive ventilation to support their breathing at night-time.
Pulmonary Vascular Diseases
Pulmonary vascular disease is the medical term for disease affecting the blood vessels leading to or from the lungs. Most forms of pulmonary vascular disease cause shortness of breath. There are two main types of pulmonary vascular diseases: pulmonary embolism and pulmonary hypertension.
Lung Cancer
Lung cancer, also known as lung carcinoma, is a malignant lung tumor characterized by uncontrolled cell growth in the tissues of the lung. The two main types are small-cell lung carcinoma and non-small-cell lung carcinoma. The most common symptoms are coughing, weight loss, shortness of breath and chest pain.
Pulmonary Neoplasm
Pulmonary neoplasm is an abnormal growth in the lung, commonly known as a tumor. Neoplastic growths are the product of unchecked cellular reproduction and may be either benign or malignant. Primary lung neoplasms are rare in children. Amongst the malignant pulmonary lesions in children, secondaries from osteosarcomas are more commonly encountered.
Chronic Obstructive Pulmonary Disease
COPD is a type of obstructive lung disease (airway obstruction) characterized by long term poor airflow. It can cause coughing that produces large amounts of mucus, wheezing, shortness of breath, chest tightness and other symptoms.
Occupational Lung Diseases
Exposure to dust in the workplace is associated with a variety of pulmonary and systemic illnesses. Occupational diseases are often thought to be uniquely and specifically related to factors in the work environment. These are group of diagnoses caused by the inhalation of dusts, chemicals, or proteins. "Pneumoconiosis" is the term used for the diseases associated with inhaling mineral dusts. Pneumoconiosis means "dusty lungs." These can include chronic obstructive pulmonary disease and mesothelioma.
Respiratory Infections
Respiratory infection is a leading cause of seeking medical care in returning travelers. Respiratory infections occur in up to 20% of all travelers, which is almost as common as travelers' diarrhea. Respiratory tract infections are any infection of sinuses, throat, airways, or lungs. Healthcare professionals generally make a distinction between upper respiratory tract infections and lower respiratory tract infections.
Pulmonary Pharmacology
Pulmonary pharmacology concerns understanding how drugs act on the lung and the pharmacological therapy of pulmonary diseases. Much of pulmonary pharmacology is concerned with the effects of drugs on the airways and the therapy of airway obstruction, particularly asthma and chronic obstructive pulmonary disease, which are among the most common chronic diseases in the world.
Lung Transplantation
A lung transplant is a surgical procedure to replace a diseased or failing lung with a healthy lung, usually from a deceased donor. Depending on the medical condition, a lung transplant may involve replacing one of the lungs or both of them. In some situations, the lungs may be transplanted along with a donor heart. While lung transplants carry certain associated risks, they can also extend life expectancy and enhance the quality of life for end-stage pulmonary patients.
Pulmonary Hypertension
PH is an increase of blood pressure in the pulmonary artery, pulmonary vein, or pulmonary capillaries, together known as the lung vasculature, leading to shortness of breath, dizziness, fainting, leg swelling and other symptoms.
Interventional Pulmonology
Interventional pulmonology is a new field within pulmonary medicine focused on the use of advanced diagnostic and therapeutic techniques for patients with lung cancer, airway disorders, and pleural diseases. Interventional pulmonology uses endoscopy and other tools to diagnose and treat conditions in the lungs and chest. Few procedures of interventional pulmonology include: flexible bronchoscopy, bronchoalveolar lavage, biopsy of lung or lymph node, foreign body removal
Fast Editorial Execution and Review Process (FEE-Review Process):
Journal of Pulmonary Medicine is participating in the Fast Editorial Execution and Review Process (FEE-Review Process) with an additional prepayment of $99 apart from the regular article processing fee. Fast Editorial Execution and Review Process is a special service for the article that enables it to get a faster response in the pre-review stage from the handling editor as well as a review from the reviewer. An author can get a faster response of pre-review maximum in 3 days since submission, and a review process by the reviewer maximum in 5 days, followed by revision/publication in 2 days. If the article gets notified for revision by the handling editor, then it will take another 5 days for external review by the previous reviewer or alternative reviewer.

Acceptance of manuscripts is driven entirely by handling editorial team considerations and independent peer-review, ensuring the highest standards are maintained no matter the route to regular peer-reviewed publication or a fast editorial review process. The handling editor and the article contributor are responsible for adhering to scientific standards. The article FEE-Review process of $99 will not be refunded even if the article is rejected or withdrawn for publication.

The corresponding author or institution/organization is responsible for making the manuscript FEE-Review Process payment. The additional FEE-Review Process payment covers the fast review processing and quick editorial decisions, and regular article publication covers the preparation in various formats for online publication, securing full-text inclusion in a number of permanent archives like HTML, XML, and PDF, and feeding to different indexing agencies.