About the Journal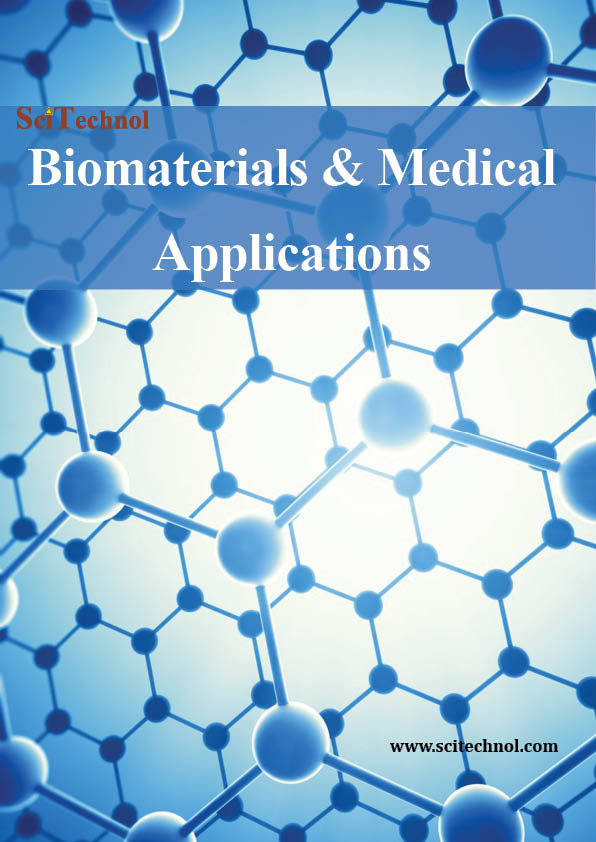 Biomaterials & Medical Applications (BMA) is a peer-reviewed scholarly journal, a new frontier among the Material Sciences Journals; aims to publish the most complete and reliable source of information on the current research advancements of Biomaterials Sciences. The Journal mainly promotes the novel emerging Biomaterial applications to Medical Sciences like Biomaterials, Tissue Engineering, Regenerative Medicine, Bionanotechnology, developing medical devices, implants, nanomaterials, bioengineering materials, 3D Printing in Medicine, materials science, biomedical applications, Mechanical Engineering, and diagnostic systems.
Biomaterials & Medical Applications mainly focuses on all the key areas of Biomaterials Engineering to clinical practice and medical technologies. The scope of the Journal encompasses the study of Biomaterials: Synthesis & Characterization, types of materials used in Medicine and the development of Biomaterials for Medical applications.
The journal accepts original manuscripts in the form of research article, review article, short communication, scientific correspondence, letters to editor and editorials for publication. All the articles published are open access and can be easily accessed online without paying any subscription charges.
Manuscripts can be submitted online through Online Submission System or as an e-mail attachment to the editorial office at manuscripts@scitechnol.com. All the submitted articles are screened through a peer review system. Approval of at least two independent reviewers is mandatory for the acceptance of the manuscript. The whole process of review and article processing can be easily tracked online.
Biomaterials
Biomaterials are biocompatible,non toxic, non carcinogenic,non immunogenic and non tetratogenic synthetic substance with adequate physical and mechanical properties used widely in medical applications to augment or replace a natural body function(therapeutic uses)that can be implanted or partially implanted or used as totally external devices. Medical applications include drug delivery,clinical therapies, regenerative medicines,tissue engineering,implantable devices.
Journal Related to Biomaterials
Biomaterials, Journal of Biomaterials Applications, Biomaterial journals,Acta Biomaterialia,Journal of the Mechanical Behaviour of Biomedical Materials,International Journal of Biomaterials,Journal of Biotechnology and Biomaterials,Journal of Biomaterials and Nanobiotechnology,Biomaterial Science(Subscription),Journal of Biomedical Materials Research Part (A & B),Biomatter
Biomaterials in Drug Delivery
Drug delivery decribes the formulations or technologies of transfering or administering a drug or pharmaceutical product in desired amount inside the body to achieve the desired therapeutic effect.It should be safe and reliable with proper dosage.Drug release is from diffusion, degradation, swelling, and affinity-based mechanisms. The rapid growth of nanoscale materials led the existance of injectable targeted drug delivery systems in the form of inserts (vaginal,ophthalmic), implants (intramuscular),topical(skin patches), surface coated (oral tablets),injected nanocarrier ( polymer-drug conjugates) etc.
Journals related to Drug Delivery
International Journal of Pharmaceutical Investigation,Journal of Drug Delivery,The Open Drug Delivery Journal,Advanced Drug Delivery Reviews,Journal of Pharmaceutics & Drug Delivery Research,Drug Delivery and Transitional Research,ATS Journals,International Society for Aerosols in Medicine,Journal of Drug Delivery Science and Technology, International Society for Aerosols in Medicine,Drug Delivery,International Journal of Current Trends in Pharmaceutical Research,Advances in Polymer Science and Technology- An International Journal
Bioelectrodes and Biosensors
Bioelectrodes are sensors used to transmit information into or out of the bodyand are mainly applied in cardiology and neurology applications. Surface or transcutaneous electrodes used to monitor or measure electrical events in the body. A biosensor uses biological molecules, tissues, organisms to measure chemical or biochemical concentrations. Biosensors can be used in many medical and non-medical applications. Biomedical sensors detect simple physical parameters like blood pressure or temperature to blood glucose. Biosensors works by changing the pH, ions, blood gases (O2, CO2 and etc.), drugs, hormones, proteins, viruses, bacteria, tumors and etc.
Journals related to Bioelectrodes and Sensors
Biosensors Journal,Biosensors and Bioelectronics,Open Journal of Applied Biosensor,Sensing and Bio-Sensing Research,Advanced Functional Materials,Welcome to Biosensors: A New Open-Access Journal.
Tissue Engineering
Tissue engineering utilizes the living cells along with engineering methods and suitable biocompatible and physiochemical factors for improving or replacing biological tissues(blader,skin,muscles,blood vessels,bone,cartilages).It mainly involves the use of a scaffold for the formation of new viable tissue for a medical purpose. It performs specific biochemical functions using cells within an artificially-created support system (e.g. an artificial pancreas, or a bio artificial liver).
Journals related to Tissue Engineering
Journal of Tissue Science & Engineering,nature biotechnology,Journal of Tissue engineering,Journal of Biomedical materials Research,Journal of Biomedical Systems & Emerging Technologies,Journal of Biotechnology & Biomaterials ASAIO Journal,Global journal of Research and Review,JOP.Journal of the Pancreas,British Medical Bulletin,American Diabetes Association
Orthopedic Bio-materials
Orthopedic biomaterials are implantable devices acting as substitutes for the injured or damaged tissues such as bone,cartilages,joints,ligaments,tendons so as to perform the regular biological functions at ease. These include hip-knee joint replacements,spine implants, bone allografts etc. These are biocompatabile,non toxic and non immunogenic synthetic substances.
Journals related to Orthopedic Biomaterials
Biomaterials in Orthopaedics,Journal of Orthopaedic Surgery and Research,The American Journal of Orthopaedics,Acta Orthopædica Belgica,Orthopaedic Journal of Sports Medicine,Journal of Children's Orthopaedics,Indian Journal of Orthopaedics,Clinical Journal of Sports Medicine,Bone &Joint Research,Bone,BMC Muskoskeletal Disorders,Clinics in Orthopedic Surgery,The Journal of Orthopedic Surgery and Research,Journal of Orthopaedics and Traumatology,International Orthopaedics,International Orthopaedics,The Journal of Arthroplasty,
Cardiovascular Implantable Devices
Cardiovascular is the study related to the circulatory system that includes functioning of heart and blood vessels (artery,capillaries,veins and veinule),oxygen transport ,carbon dioxide and waste elimination ,blood pumping,Circulatory loops(pulmonary circulation loop and Systemic circulation loop),Coronary circulation,Hepatic portal circulation,heart chambers,heart valves,auricle and ventricle,blood(RBC,WBC,Platelets,plasma). Cardiovascular diseases is the leading cause of death in most of the developed countries.In cardiovascular applications biomaterials can be used as heart valves,cardiac pacemaker, stent grafts,vascular grafts,blood vessel prostheses that improves cardiac function. These are biocompatible and non hazardous to human body.
Journals related to Cardiovascular Implantable Devices
Biomed Research International,JACC: Cardiovascular Interventions,JACC: Heart Failure,Journal of Heart and Lung Transplantation,American Heart Journal,Expert Review of Cardiovascular Therapy, Trends in Biomaterials and Artificial Organs, International Journal of Biomaterials,Journal of Biomaterials and Tissue Engineering, Cardiovascular biomaterials Journals.
Dental Restorative Materials
Dental practises is the healing arts concerned with the teeth and associated structures of the oral cavity, including prevention, diagnosis, and treatment of disease and restoration of defective or missing teeth e.g., the restoration of tooth crowns and bridges, root replacements and surgical procedures performed in and about the oral cavity. Dental restorative materials can be used for both long and short term applications. The biomaterials should be biocompatible, bond and match permanently with tooth structure,exhibit similar properties a sthat of tooth enamel and dentin along with other tissues,capable of initiating tissue repair.
Journals related to Dental Biomaterials
Jornal of Oral Implantology,Biomed Research International,Journal of Dentistry,International Journal of Oral Science,Oral Health and Dental Management,Dentistry,Journal of Oral Hygiene & Health,Journal of Dental Sciences.
Wound Healing and Skin Regeneration
Wound healing and skin regeneration deals with the structure and function, restoration of injured or diseased tissues.The healing processes include blood clotting, tissue mending, scarring, and bone healing. The biomaterials should be biocampatible, non carcinogenic, painless, inexpensive, bacterials resistant, easily applicable,non antigenic and long shelf life.It covers the studies and research related to cellular and molecular biology, connective tissue, and biological mediator studies in the field of tissue repair and regeneration.
Journals related to Wound Healing and Skin Regeneration
Advances in Skin and wound Care,Wound Repair and Regeneration,Chronic Wound Care Management and Research,Wound Medicine,The International Wound Journal for Clinical and Health Economics Research and Applications,Research and Reviews: Journal of Pharmacology and Toxicological Studies,Journal of Wound, Ostomy and Continence Nurshing.Journal of Medical and Health Sciences.
Regenerative Medicine
Regenerative medicine restores the structure and functionality of the damaged tissues and organs. It works on the regeneration of body parts and organs from a person's own cells and tissues. This eliminates the tissue rejection concept.It covers cell based regenerative therapies,stem cell transplantation,fetal stem cells,cancer stem cells,bone marrow stem cells etc.
Journals related to Regenerative Medicine
The Journal of Stem cells and Regenerative Medicine,Regenerative Medicine,Regenerative Therapy,Journal of Regenerative Medicine, Journal of Biotechnology & Biomaterials,Journal of Cell Science & Therapy,Journal of Stem Cell Research & Therapy,Stem Cell Research and Regenerative Medicine
Ophthalmics Implants
Ophthalmics is the study related to eye tissue.The tissues of the eye can suffer from several diseases, leading to reduced vision and eventually blindness. Ophthalmics implants are the biomaterials which are used mainly in contact lenses,intraocular lenses,glaucoma shunts,Ophthalmic viscosurgical device,retinal prostheses etc. Intralocular lenses is mostly made of PMM,silicone,elastomer and good vision is restored immediately after the insertion of lens.
Journals related to Ophthalmics Implants
Journal of Opthalmic Science,Journal of Ophthalmic Inflammation and Infection,International Journal of Ophthalmic Research,Journal of Ophthalmic and Vision Research,Journal of Clinical & Experimental Ophthalmology,Clinical & Experimental Ophthalmology,Starbismus,Journal of opthalmic Research
Fast Editorial Execution and Review Process (FEE-Review Process):
Biomaterials & Medical Applications is participating in the Fast Editorial Execution and Review Process (FEE-Review Process) with an additional prepayment of $99 apart from the regular article processing fee. Fast Editorial Execution and Review Process is a special service for the article that enables it to get a faster response in the pre-review stage from the handling editor as well as a review from the reviewer. An author can get a faster response of pre-review maximum in 3 days since submission, and a review process by the reviewer maximum in 5 days, followed by revision/publication in 2 days. If the article gets notified for revision by the handling editor, then it will take another 5 days for external review by the previous reviewer or alternative reviewer.

Acceptance of manuscripts is driven entirely by handling editorial team considerations and independent peer-review, ensuring the highest standards are maintained no matter the route to regular peer-reviewed publication or a fast editorial review process. The handling editor and the article contributor are responsible for adhering to scientific standards. The article FEE-Review process of $99 will not be refunded even if the article is rejected or withdrawn for publication.

The corresponding author or institution/organization is responsible for making the manuscript FEE-Review Process payment. The additional FEE-Review Process payment covers the fast review processing and quick editorial decisions, and regular article publication covers the preparation in various formats for online publication, securing full-text inclusion in a number of permanent archives like HTML, XML, and PDF, and feeding to different indexing agencies.