Case Report, J Otol Rhinol Vol: 6 Issue: 4
Benign Fibrous Histiocytoma of Larynx, an Uncommon Finding
Laura CM*
Graded Specialist (ENT), UBA, Policlinico Bancario, Argentina
*Corresponding Author : Dr. Cosentino Maria Laura
Graded Specialist (ENT). UBA, Policlinico Bancario, Argentina
Tel: +541133259021
E-mail: [email protected]
Received: May 02, 2017 Accepted: June 02, 2017 Published: June 09, 2017
Citation: Laura CM (2017) Benign Fibrous Histiocytoma of Larynx, an Uncommon Finding. J Otol Rhinol 6:4. doi: 10.4172/2324-8785.1000320
Abstract
Fibrous histiocytoma of larynx is a rare entity. We present a 78-year-old female of benign fibrous histiocytoma of larynx what is extremely rare. Its pathology is described including arguments for benignity, and we can distinguish from malignant fibrous histiocytoma.
Keywords:
Benign fibrous Histiocytoma; larynx; Recurrence; Malignancy
Introduction
On occasions, we encounter unexpected findings in clinical practices. The larynx is an organ accessible to direct clinical examination. Fibrous histiocytoma is uncommon in the head and neck region and rare in the larynx. Some cases present with severe upper air way obstruction requiring emergent air way management, few cases have been reported in the literature and most of all are malignant.
Case Report
78-year-old female patient consults in June 2016 at the Policlinico Bancario, she presented progressive discomfort when she swallowed, of two months duration without any changes in voice, without any associated weight loss or other symptoms. She was smoker 5 cigarettes per day for 20 years, and non-alcoholic. On evaluation with 70° Hopkins rod lens revealed: mucosal lesion located in the right pyriform fossa and supraglottis edema. Vocal cords were normal and mobile (Figure 1). She was evaluated by contrast enhaced CT scan (Figure 2).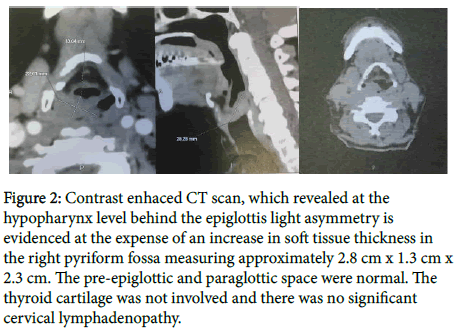 Figure 2: Contrast enhaced CT scan, which revealed at the hypopharynx level behind the epiglottis light asymmetry is evidenced at the expense of an increase in soft tissue thickness in the right pyriform fossa measuring approximately 2.8 cm x 1.3 cm x 2.3 cm. The pre-epiglottic and paraglottic space were normal. The thyroid cartilage was not involved and there was no significant cervical lymphadenopathy.
We decided to undergo to a direct laryngoscopy and biopsy of the lesion, resecting much of it. Histopathological examination revealed, fibrous bening histiocytoma (BFH) are composed of whorls of benign fibroblastic cells with a radiating, storiform pattern, admixed with multinucleated giant cells [1]. They can be distinguished from Malingnant Fibrous Histiocytoma (MFH) because they are less cellular and lack nuclear pleomorphism, abnormal mitotic figures and necrosis (Figure 3).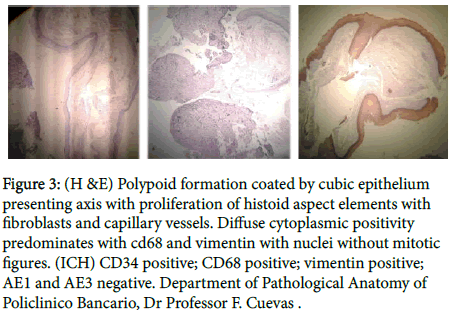 Figure 3: (H &E) Polypoid formation coated by cubic epithelium presenting axis with proliferation of histoid aspect elements with fibroblasts and capillary vessels. Diffuse cytoplasmic positivity predominates with cd68 and vimentin with nuclei without mitotic figures. (ICH) CD34 positive; CD68 positive; vimentin positive; AE1 and AE3 negative. Department of Pathological Anatomy of Policlinico Bancario, Dr Professor F. Cuevas .
The general condition of the patient improved after the operation and she was follow every three month without change with hopkins and images, and the symptoms decreased. Expectant and follow-up behavior was decided given the age and the improvement of symptoms.
Discussion
BFH is a benign tumour of mesenchymal origin, which is usually found to be of cutaneous origin and its presence in non-cutaneous deep organs of the body is rare with few isolated reports in literature [1].
It is uncommon in the head and neck region and rare in the larynx.
It has been reported that biopsy specimens of malignant fibrous histiocytoma in the head and neck region were initially diagnosed as fibrosarcomas or osteosarcomas [2]. It is a mesenchymal tumor probably of histiocytic origin and may be divided into six sub types, pleomorphic, fibrous, giant cell, angiomatoid, myxoid and inflammatory, to be distinguished on the basis of the predominant feature.
In the head and neck region, they usually present as painless well circumscribed firm lesions causing no specific symptom. The symptoms develop later due to pressure effects depending on their size and site of involvement [3].
The classical histological pattern is a neoplasm of histiocytic origin with dual cell population of histiocytes and fibrocytes [4]. On microscopic examination, it is predominantly composed of fibroblastic cells arranged in a storiform pattern or interlacing fascicles, supported in a collagenous stroma and admixed with varying numbers of histiocytes, foam cells, siderophages and inflammatory cells. On IHC, it is positive for CD 68 & Vimentin and negative for SMA & S-100 (muscle and neurogenic origin). Histologically, BFH needs to be differentiated from aggressive conditions like malignant fibrous histiocytoma, which typically has a pleomorphic pattern of cells with mitotic figures, giant cells and areas of haemorrhage and necrosis [5].
Surgery is the treatment of choice as radiotherapy and chemotherapy is not effective [6]. Excision with wide margins is necessary as tumors are characterized by a high rate of local recurrence varying from 44 to 73%. There have been only a few case reports of BFH of larynx and our case typically highlights the need for IHC for diagnosis of this condition [7].
Conclusion
Benign fibrous histiocytoma is an interesting and challenging entity even in its most usual. We herein report such a case, describing the clinical characteristics of the lesion, complete diagnostic evaluation, management, and follow-up. Diagnostic histopathological challenges are specifically illustrated. A complete review of the relevant literature is also included.
References