About the Journal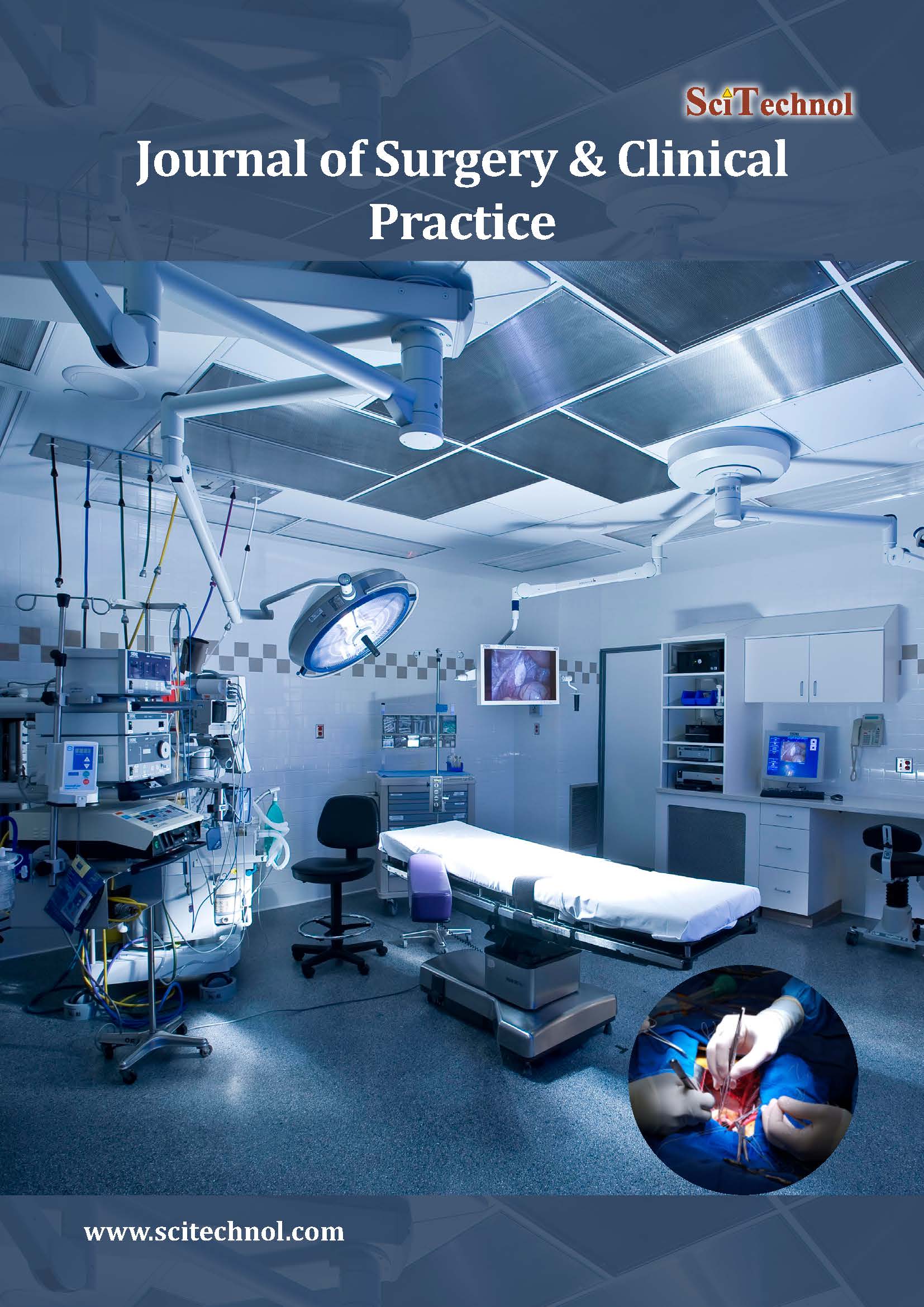 Journal of Surgery & Clinical Practice (JSCP) is a medical journal that publishes articles based on global advancement of surgical research, education and clinical practice. The Journal also features review articles, critiques, controversies, methods, technical notes, selected case studies and articles of special nature.
The journal offers peer-reviewed articles on Surgical Research. The journal also supports articles written based on clinical or experimental research to add value and professionalism. Clinical papers emphasizing all aspects of Research and Clinical Trials in Surgery includes Neurosurgery, Head and Neck Surgery, Ear, Nose and Throat Surgery, Cardiac and Thoracic Surgery, Eye surgery, Orthopedic Surgery.
Submit your manuscript at https://www.scholarscentral.org/submission/surgery-clinical-practice.html Submit Manuscripts as e-mail attachment to the Editorial Office at [email protected]
Journal of Surgery & Clinical Practice focuses on the following areas, but not limited to:
Surgical Oncology
Oral Surgery
Gastrointestinal Surgery
Pediatric Surgery
Colon and Rectal Surgery
Endocrine Surgery
Gynecologic surgery
Urologic Surgery
Open Abdominal surgery
Transplant Surgery
Pediatric Surgery
Bariatric Surgery
Plastic and Reconstructive Surgery
Robotic Surgery
Bariatric Surgery
Genital reconstructive surgery
Reproductive Surgery
Minimal Access Surgery
Acute Care and Trauma Surgery
Any article pertaining to Surgical Sciences will be considered. Review processing is performed by the editorial board members of Journal of Surgery & Clinical Practice or outside experts; at least two independent reviewers approval followed by editor approval is required for acceptance of any citable manuscript. Authors may submit manuscripts and track their progress through the system, hopefully to publication. Reviewers can download manuscripts and submit their opinions to the editor. Editors can manage the whole submission/review/revise/publish process.
Surgery
Surgery is the branch of medicine which deals with the diagnosis and treatment of injury, deformity, and disease by the use of instruments on a patient and also helps to improve bodily function or appearance or to repair unwanted ruptured areas.
Neurosurgery
Neurosurgery is the surgical specialization concerned with the prevention, diagnosis, treatment, and rehabilitation of disorders which affect any portion of the nervous system including the brain, spinal cord, peripheral nerves, and extra-cranial cerebrovascular system. Surgery performed on the nervous system, especially the brain and spinal cord. It is the specialized field of surgery that treats diseases that affect the CNS—the brain and the spine.
Plastic and Reconstructive Surgery
Otorhinolaryngology is the surgical specialization concerned with the diagnosis, evaluation and management of diseases of head and neck and principally the ears, nose and throat.
Cardiac surgery
Cardiac surgery involving the heart and great vessels and thoracic surgery involving the lungs.
Eye surgery
Eye surgery, also known as ocular surgery, is surgery performed on the eye or its adnexa, typically by an ophthalmologist.
Orthopaedic surgery
Orthopaedics is an area of surgery concerned with injuries and conditions that affect the musculoskeletal system (the bones, joints, ligaments, tendons, muscles and nerves). Orthopaedic operations includes repairing fractured bones, arthroscopy, repairing damaged muscles, torn tendons or torn ligaments, arthroplasty, surgery to correct bony deformity.
Surgical Oncology
Surgical Oncology is the surgical specialization concerned with the diagnose, stage and treat cancer, and to manage certain cancer-related symptoms.
Gastrointestinal Surgery
GI Surgery is concerned in providing comprehensive surgical care for patients with basic and complex gastrointestinal diseases. This includes cancers and benign conditions of the esophagus, liver, spleen, bile ducts, pancreas, stomach and gallbladder.
Pediatric Surgery
Pediatric surgery is a subspecialty of surgery involving the surgery of fetuses, infants, children, adolescents, and young adults.
Colon and Rectal Surgery
Colorectal surgery is a branch of medicine dealing with the structure and diseases of the anus, rectum, and sigmoid colon.
Oral and Maxillofacial Surgery
The branch of dentistry concerned with the surgical and adjunctive treatment of diseases, injuries, and deformities of the oral and maxillofacial region.
Endocrine Surgery
Endocrine surgery refers to operations on one or more of the endocrine glands. These glands secrete hormones into the bloodstream, and have an important influence over the functions of almost all cells in the body. There are a number of other endocrine glands and these are treated by different surgeons. They include the pituitary gland in the brain, which secretes various stimulating hormones and which is treated by neurosurgeons, and the ovaries, which secrete sex hormones and which are treated by gynaecologists.
Gynecologic surgery
Gynecological surgery refers to surgery on the female reproductive system. Gynecological surgery is usually performed by gynecologists. It includes procedures for benign conditions, cancer, infertility, and incontinence. Gynecological surgery may occasionally be performed for elective or cosmetic purposes.
Urologic Surgery
Urologic Surgery deals with care to all patients with problems involving the kidneys, ureters, bladder, prostate, and sexual organs. Common urologic problems includes Kidney stones, Blood in the urine, Difficulty with urinating, including the inability to urinate, Urinary incontinence Sexual dysfunction, Elevated PSA levels, Prostate cancer, Tumors of the kidneys and bladder.
Transplant Surgery
Organ transplantation is the moving of an organ from one body to another or from a donor site to another location on the person's own body, to replace the recipient's damaged or absent organ. Organs and/or tissues that are transplanted within the same person's body are called autografts. Transplants that are recently performed between two subjects of the same species are called allografts. Allografts can either be from a living or cadaveric source.
Plastic and Reconstructive Surgery
Plastic surgery is defined as a surgical specialty dedicated to reconstruction of facial and body defects due to birth disorders, trauma, burns, and disease. Plastic surgery is intended to correct dysfunctional areas of the body and is reconstructive in nature. Though cosmetic or aesthetic surgery is the most well known kind of plastic surgery, plastic surgery itself is not necessarily considered cosmetic and includes many types of reconstructive surgery, craniofacial surgery, hand surgery, microsurgery, and the treatment of burns.
Fast Editorial Execution and Review Process (FEE-Review Process):
Journal of Surgery & Clinical Practice is participating in the Fast Editorial Execution and Review Process (FEE-Review Process) with an additional prepayment of $99 apart from the regular article processing fee. Fast Editorial Execution and Review Process is a special service for the article that enables it to get a faster response in the pre-review stage from the handling editor as well as a review from the reviewer. An author can get a faster response of pre-review maximum in 3 days since submission, and a review process by the reviewer maximum in 5 days, followed by revision/publication in 2 days. If the article gets notified for revision by the handling editor, then it will take another 5 days for external review by the previous reviewer or alternative reviewer.

Acceptance of manuscripts is driven entirely by handling editorial team considerations and independent peer-review, ensuring the highest standards are maintained no matter the route to regular peer-reviewed publication or a fast editorial review process. The handling editor and the article contributor are responsible for adhering to scientific standards. The article FEE-Review process of $99 will not be refunded even if the article is rejected or withdrawn for publication.

The corresponding author or institution/organization is responsible for making the manuscript FEE-Review Process payment. The additional FEE-Review Process payment covers the fast review processing and quick editorial decisions, and regular article publication covers the preparation in various formats for online publication, securing full-text inclusion in a number of permanent archives like HTML, XML, and PDF, and feeding to different indexing agencies.