Research Article, J Fashion Technol Textile Eng Vol: 8 Issue: 3
Assimilation of Architecture in Fashion Wear
1Department of Design (Fashion Design) Sir Vithaldas Thackersey College of Home Science, S.N.D.T Women's University, Mumbai, India
2Department of M. Design (Fashion Design), Sir Vithaldas Thackersey College of Home Science, S. N. D.T Women's University, Mumbai, India
*Corresponding Author: Sabita Baruah
Department of Design (Fashion Design) Sir Vithaldas Thackersey College of Home Science
S.N.D.T Women's University, Mumbai, India
Tel: 91 9930456331
E-mail: sabita_baruah@rediffmail.com
Received: June 10, 2020 Accepted: July 10, 2020 Published: July 30, 2020
Citation: Baruah S, Patil N (2020) Assimilation of Architecture in Fashion Wear. J Fashion Technol Textile Eng 8:3.
Abstract
Creativity in the field of fashion is known to draw inspiration from many unusual sources. One such source happens to be architectural styles of buildings that strive to preserve the cultural heritage of an entire civilization. The styles might not only inspire simple motifs and silhouette types, but also weave a story that will eventually find its way into more intricate forms of human clothing. Therefore, this paper will lead us to first understand the inner anatomy of a piece of architecture. Later, the paper will help us identify the finer elemental artifacts that can be retrieved and assembled into an exotic fashion creation. While doing so, the hidden relationships, astounding similarities, and stunning differences between the fields of architecture and fashion will become increasingly evident. Within India, the great monuments whose architectures are waiting to be exploited for fashion ideas include the Golden Temple, Charminar, Meenakshi, Temple, and Hampi.
Keywords:
Fashion, Architecture, Monuments, Indian, Inspiration
Introduction
Design of a garment, while keeping in mind commercial marketability and competitiveness, is in itself a very creative process. A design is usually inspired by one's immediate surroundings. The inspiration can typically come from innate objects, biological species, or even a naturally occurring rainbow phenomenon. It is here that the mood of the creation needs to be accurately and elegantly conveyed to the consumer. With a variety of sources already exploited for new ideas, architecture would be the next natural choice. From a creative standpoint, well preserved ancient monuments usually point towards creative styles that have stood the real test of time and survived through several human generations. In fact, the greatness of an ancient civilization is often measured by a list of relevant architectural achievements. Therefore, it makes perfect sense to have architectural styles provide the input stimulus for clothing fashion designs too. In fact, this might even come off as a natural extension.
While discussing the common elements in fashion and architecture in a quest for understanding the relationships between the two, this paper touches upon various aspects. In particular, the paper explains the creative process involved in fashion design and the architectural monuments in India that served as the sources of inspiration. Several research papers have also been examined for fresh insights. Fashion designs that were inspired by Indian architecture have also been reviewed for a better understanding of the creative process.
Discussion
Relationship, similarities and differences
From afar, fashion and architecture might appear as two distinct fields. However, a set of similarities and some subtle differences point towards the existence of a hidden relationship that might not be immediately apparent to a casual observer. However, there seems to be convergence of creative ideas at the basic root level. In fact, creative ideas in fashion and architecture can grow from the same seedling planted underground. This points to a great deal of commonality at the level of origin.
The most logical and basic relationship that can be traced out of these two fields is that both fashion and architecture offer shelter for people within different social dimensions. (3) For better interpretation, the former provides shelter for the human body while the latter provides the same in the form of a dwelling. Thus the general functionality that the two domains serve humanity further set the path for understanding the features the features and concepts that are synonymous and also varying factors amongst the two. In fact, Zaha Hadid has said -"Both architecture and fashion are based on structure and shape, and turning basic necessity (like clothing and shelter) into art."
Fashion and architecture possess 'design' and 'creativity' as common elements which include imagination, art, visualization, creativity, and skill. This is why the process of creating a design of any fashion product from scratch is similar to the process of creating a design of a building [1]. Both the forms along with their relation to fine arts and visuals have resemblances. They are three dimensional. They both contain space and are also structured. The basis of three dimensional form and space of architecture can also be understood in terms of fashion. Plain fabric originally restrained within a two dimensional form later transforms itself into a three dimensional form when made into a garment. The garment creation claims its own space when transformed into a fabric surrounding the human body [2].
Coco Channel stated- "Fashion is architecture, its matter of proportion". Though the similarities in relationship between art, design, use of technology, and science are in general terms, the two domains differ in the literal sense of scale, proportion, materials, pattern, and size. Also, fashion and architecture differ in the duration of their functionalities. Fashion has a very short duration life while the wearable art form changes every season. On the other hand, architecture has much longer duration as its life is determined by the building materials used. In this way, the two fields differ and are affected by time, culture, society, technology, and materials utilized. Meanwhile, the power and inspiration of science in both fashion and architecture results in innovation of unforgettable designs [3].
Inspirational aspects of architecture
Architecture, may it be in a traditional building of an artifact, has numerous facets. Individual facets can be extracted and used as design elements in fashion. Characteristic features can thus link the wearable art to the architecture through its close resemblance in the ways discussed below:
A piece of architecture is a grand form of structure in itself. With exaggerated proportions, swooping angles, curves and pointed edges, the architectural character provides designers with creative forms that can be explored in fashion as garment silhouette. The principal structure of a piece of architecture is something that initially catches a viewer's eye. It is here that the overall aesthetic look puts its best foot forward. When looked upon more closely, the individual components within the architectural mosaic can stir up a fashion designer's creative mind. Color is one primal constituent that is aesthetically noticed first. The color component could be bold, vibrant, pastel, or merely a gradation. The glossy look or the transparency of windows and glass can be replicated in fashion through the use of shiny or sheer fabrics. Large solid and void frames along with the rigid build can be transformed into textures in the form of laces shown in Figure 1.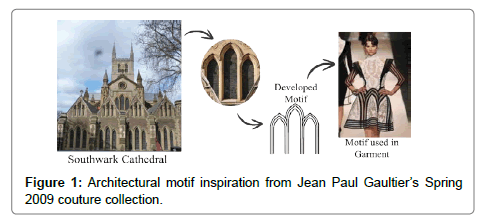 Figure 1: Architectural motif inspiration from Jean Paul Gaultier's Spring 2009 couture collection.
Important architectural elements that usually garner attention are the various detailing done in the form of sculptures, inscriptions, carvings or engravings. These are the typical sources of inspirations for the motifs, patterns, and other designs. They can be used as is in a literal sense, or modified and combined to create surface ornamentation on the fashion wear. Often these details reflect the particular tastes, interests, living standards, styles, and customs of a civilization. Thus architecture also tells a story and is associated with some interesting piece of history. This inspiring element can also be incorporated into the fashion collection. In fact, the historical anchor and the hidden story beneath might contribute to value addition in subliminal ways. Therefore, when a creative designer investigates any architecture, an unforeseen and un-looked detail of the building may emerge. This could turn out as one of the majestic features of a garment design [4].
Inspiring Indian architectural monuments
"Monuments-the architectural projects of the past preserve the most fruitful records of the contemporary society, of the faith and beliefs, the aesthetic outlook and art capabilities of the contemporary people. " quotes R. Nath [5].
Considering Indian architectural monuments as another source of inspiration is not only significant for representing functionality, but also for openly flaunting deeply rooted cultural values. Moreover, it can result in the rejuvenation of classical motif styles by giving them a different surface to expand upon. This in turn could also help in constructing many novel and more resourceful connections that will help build bridges between the past and the present. It can also help build bridges between the present and the future. Like India's multifariousness, these architectural monuments might also have vibrant flavors. With strong aesthetic appeal and other historically relevant features, they might also point to creativity with cultural continuity in broader aspects.
In India, Mughal Empire was one of the most impressive empires ever known to mankind. The Mughal period is also known for unique and innovative pieces of art and architecture. Mughal architecture is considered as one the most impressive and persuasive types. It happens to be a combination of Islamic, Persian, Turkish and Indian architectural styles. In particular, it is famous for its mural styles like inlay, tile, stucco and mosaic. Perfectly carved, inlaid, and painted creations usually adorn the ceilings and walls of these ancient monuments. Well known designers and student designers often derive inspiration from these Mughal designs that are timeless [6]
While Indian Mughal architecture serves us today with great inspiration, it also shared relationship with Mughal costumes in that reign in motifs and silhouettes inspired from Humanyu's Tomb, Agra Fort, Buland Darwaza, Itimad-ud-Daula, Taj Mahal, Badshahi Mosque etc [7].
Apart from prime features like bulbous stones, slender minarets, pillars, guldasta, pistaq, and vaulted gateways, other delicate ornamentation made up of geometrical designs or texture carvings are also the preferred inspiration for developing gown designs for children from 4 to 6 years of age. Place fabrics, embroidery motifs and silhouettes of garments are usually made to resemble the surface and texture of Mughal architecture [8].The documentation and digitalization of motifs from these Mughal architectural wonders is also evaluated for the suitability for textile design application [9].
The jaali pattern of the Mughal monuments has also been a great source of inspiration. These have been implemented on textiles with various techniques including embroidery - chikankari, phulkari, toda, and zardosi. They have also been incorporated into painting, printing and weaving [10].
Karan Arora is a designer who was attracted towards the ancient Mughal architecture to draw inspiration from. The finest carvings of the floral patterns from Mathura art in the Taj Mahal's interior dome and arches were a direct source of inspiration. He also confirms that the symmetric and detailed elements in the architectural work like living objects, floral placements, and geometric alignments continue to deeply influence his artwork [11].
Rahul Mishra is another designer inspired by Mughal architecture from the lesser known Asif's Khan's Tomb. He intends to recreate the geometric patterns from the monument while trying to bring out the beautiful relationship between nature and other manmade objects [12].
Shantanu and Nikhil presented their bridal fashion line 'The Mahal' collection that took inspiration again from the Taj Mahal's strong and eye capturing architecture. Their designs reflect an unusual and rare type of sophistication infused into Indian sensibility [13].
On her casual holiday to the Mysore Palace and iconic Taj Mahal, designer Sita Mikhail, uniquely came up with the idea of developing stained glass embroidery. Her designs were inspired by geometric and floral designs that appear on colorful stained glass windows at the historic monuments[14].
Anita Dongre is another designer who derives her inspiration from the cultural heritage of India. She is trying to merge art and fashion using the technology of digital printing. She has also drawn inspiration from ancient Mughal architecture. Her attention has been drawn to Jaipur city's Amer Fort for its color, energy, and architectural character [15].
Designer PunitBalna has been drawing inspiration from Amer Fort and Sheesh Mahal which happen to be the two memorable architectural wonders of Jalebi Chowk [16].
Fascinated by Mughal and Islamic architecture, PayalSinghal too inspires to borrow either patterns or texture and inlay mirror work from the same monuments [17].
The inspiration of floral bouquets, Arabesque and the Mughal patterns of Sheesh Mahal was also seen in the collection by Rar Studio [18].
Falguni and Shane Peacock show their inspiration through traditional and yet contemporary themes. Their creative designs are inspired by the Sheesh Mahal's historic Royal traditional influence paired with Indian cultural legacy [19].
Sabyasachi Mukherjee is another the trending and well-known designer known for creating 'The Udaipur Collection'. He draws inspiration from the Rajasthan royalty while referring to exuberant interiors of majestic palaces, rose gardens and also the Sheesh Mahal [20]
Apart from Mughal architecture, other Indian architectures also show incredible art and heritage in their unique ways. The Chaturmukh Jain Temple of Ranakpur is a traditional monument from Rajasthan with great sculptural decorations and intricate patterns. They too have inspired new textile print creations. Student designers have also explored the sculptures of Amravati. The sculptures typically portray a variety of poses and human body curves with lithe limb figures. Floral, animal, bird, and creeper motifs have also been used for application on kameez by the traditional painting form- kalamakari [21].
Conclusion
To help understand the relationship between fashion and architecture, a clear interconnection of the two needed to be first established. This was done by highlighting the similarities and differences between these two domains. Later, the elements of architecture that are incorporated into a fashion creation lead to the evidence of how a study of architecture can bring up an unusually rare inspiration for the wearable art. Finally, with the help of numerous examples, it is reasoned that Indian architectural monuments are be a great source of inspiration for fashion designers. However, while most designers have tried exploiting Mughal architecture, other traditional works of architecture within India remain relatively untapped. But these too can turn out to be as a great source of inspiration for a new generation of fashion designers willing to move beyond the stereotype Mughal domain, and intelligently explore other unchartered territories. Thus other Indian architectural monuments such as Golden Temple, Charminar, Meenakshi Temple, Hampi and so on can further be explored to derive inspiration for fashion design.
References
Farahat BI (2014) The Inter-relationship Between Fashion and Architecture, Al-Azhar University Engineering Journal, 9:6.
Balram S (2018) How stained-glass windows from historic monuments inspired Bengaluru designer's new collection,on September 9, 2019.
Suvarna B, Anitha D (2019) Development of Designs From Sculpture of Amaravathi for Application of Kameez Material, International Journal of Science and Research,8:2
Bhatnagar P, Seth MK (2013) Contemporary Textile Design Inspired by Mughal Monuments of Agra,
Paksoy H, Yalcon S (2005) Architectural Inspirations in Fashion Design, 3rd International Symposium of Interactive Media Design.
Gupta S (2018) Mughal architecture, on September 9, 2019.
Khan S, Swami C (2016) Developing and Creating Contemporary Textile Design Inspired from Selected Mughal Monuments of Agra, International Journal of Education and Science Research Review, 3:2.
Khandewal P (2017) The Royal Love Story from Jaipur, on September 20, 2019.
Kishore N, Paul S, Grover E, Maurya S (2013) Adaptation of Monumental Motifs for Textile Application, Asian Journal of Home Science, 8: 2.
Kumari A (2019) Elucidation of Relationship Between Clothing Silhouette and Motifs with Indian Mughal Architecture, Fashion and Textile
Menon V, Swetha RG, Kauvery RG (2016) Influence of Mughal Architecture on Clothing, Journal on Farm Science, Special Issue 29.
Roy LD (2018) Lakme Fashion Week 2018: Indian Fashion is Truly Becoming Responsible, on September 11, 2019
Kapoor SM (2017) Traditional Yet Contemporary, on September 20, 2019
Seth MK, Bhatnagar P (2016) Application of Mughal Jaali Design of Agra on Textiles-A Survey in a Textile Industry, International Journal of Science and Research, 4.
Shantanu, Nikhil (2015) "The Mahal" collection! on September 16, 2019
Srivastava M, Gaba P (2019) Adaptation of The Traditional Sculptural Designs for Developing New Textile Prints, on 30th August 2019
Vaidya R (2017) Sabyasachi just dropped his spring 2017 couture collection on Instagram , on September 20, 2019