Case Report, Clin Oncol Case Rep Vol: 6 Issue: 2
Case Report: Isolated Intramedullary Spinal Cord Relapsed Neuroblastoma - Unique Relapse Site
Naglla Elimam1*, Sami Althubaiti1,2, Abeer Mehdar1,2
1Department of Medical Oncology, Princess Noorah Oncology Center, King Abdulaziz Medical City, Ministry of National Guard Health Affairs, Jeddah, Saudi Arabia
2Department of Oncology, King Saud Bin Abdulaziz University for Health Sciences, Jeddah, Saudi Arabia
*Corresponding Author: Naglla Elimam
Department of Medical Oncology,
Princess Noorah Oncology Center, King Abdulaziz Medical City, Ministry of National Guard Health Affairs, Jeddah, Saudi Arabia.
E-mail: elimamna@ngha.med.sa
Received: February 14, 2023; Manuscript No: COCR-23-89354;
Editor Assigned: February 15, 2023; PreQC Id: COCR-23-89354 (PQ);
Reviewed: February 22, 2023; QC No: COCR-23-89354 (Q);
Revised: February 24, 2023; Manuscript No: COCR-23-89354 (R);
Published: February 28, 2023; DOI: 10.4172/cocr.6(2).278
Citation: Elimam N, Althubaiti S, Mehdar A (2023) Case Report: Isolated Intramedullary Spinal Cord Relapsed Neuroblastoma-Unique Relapse Site. Clin Oncol Case Rep 6:2
Abstract
The Central Nervous System (CNS) is a rare metastatic site of Neuroblastoma (NB) at the time of diagnosis however; on relapse, the incidence is higher. A supra-tentorial parenchymal lesion with or without meningeal spread is the main site of CNS recurrence. Few cases had been reported to have an intraspinal disease at the time of diagnosis or relapse. We report a case of metastatic neuroblastoma with no CNS involvement at diagnosis who achieved complete remission and relapse in an unusual site with a unique imaging study.
Keywords:
Intramedullary; Neuroblastoma; Central nervous system; Spinal cord
Introduction
Neuroblastoma (NB) is the most common extracranial tumor in children. More than 60% of NB cases present with metastatic disease at the time of diagnosis, with bones and bone marrow being the most common sites for dissemination [1, 2]. The Central Nervous System (CNS) is a rare site for metastasis at the time of diagnosis however the incidence is higher at the time of relapse [1, 2]. Previously published data suggested an increase in the rate of CNS relapse which was possibly linked to the impact of new treatment strategies that include High Dose therapy (HD) and immunotherapy [2,3]; however, a recent review published by SIOPEN trial experience did not prove such a link [4]. The patterns of CNS relapse in cases reported in the literature were mainly supra-tentorial parenchymal lesions with or without meningeal spread [2,4]. Isolated intramedullary spinal cord NB has been reported in an adult case as a primary presentation of a Ganglioneuroblastoma (GNB) [5]. There is a report of two pediatric patients with isolated intraspinal relapse one of them had peridural and intradural mass and the disease in the second patient was described to be in the spine with extension to the cauda equine.
Case Presentation
Our case was diagnosed to have high-risk neuroblastoma at the age of 6 years. His primary disease site was the right suprarenal gland with the involvement of retroperitoneal lymph nodes. He also had extensive bone marrow infiltration bilaterally beside multiple bone metastasis (left shoulder, scapula, right proximal humorous and distal tibia, and lumbar spine (Figure 1).
Figure 1: Selected images for the patient at the time of diagnosis. CT scan image in coronal plane (A) shows the large calcified right suprarenal mass (star) with paraaortic metastatic lymph nodes (arrow). MIBG scan (B) and Bone scan (C) demonstrate the abnormal uptake in the right paraaortic/ suprarenal area (star) and the multiple bone lesions (short arrows) consistent with bone metastases.
He underwent an excisional biopsy of the suprarenal mass and the retroperitoneal lymph node. Tumor pathology revealed a poorly differentiated neuroblastoma, tumor Size was 7 cm in greater diameter, Mitotic karyorrhectic index: High (> 200 per 5000 cells; > 4%). lymph nodes resected were positive for metastatic neuroblastoma. NMYC was not amplified. He was treated according to the COG-ANBL0532 study. He showed a superb response tochemotherapy; after the 6th induction cycle, his disease evaluation showed a completely local and metastatic remission by anatomical and functional images with a resolution of bone marrow involvement. He received consolidation with tandem high dose therapy and autologous stem cell rescue followed by radiation therapy to the primary site. He was started on immunotherapy with anti GD2; however, it was stopped by the parents during the first cycle because of side effects. He received 6 cycles of 13-Cisretinoic acid. End of therapy evaluation showed complete remission. 3 months after completion of therapy, he presented with five days history of severe back pain, paraplegia, and complete loss of sphincters control. An urgent MRI of the spine was obtained and demonstrates the presence of a heterogeneous intramedullary cord lesion with cord expansion at the level of T11 and T12 with the involvement of the conus. Blood products are identified with long segment of cord oedema (Figure 2).
Figure 2: Selected MR images of the spine demonstrate the intramedullary lesion (star) with cord expansion at the level of L11/L12 of the cord. The lesion is of heterogenous T2 signal intensities with areas of low signal suggestive of blood contents (A) and low to intermediate T1 signal intensity (B) and it shows heterogenous enhancement on the post-contrast image (C). Spinal cord edema is identified on the T2 weighted images (arrow). Noted is the vertebral body's bone marrow fat signal intensity related to previous history of radiation therapy to the primary site (short arrows).
As there was no obvious mass and with the presence of extensive cord edema/bleeding, he was treated with high dose steroid, and images were repeated after 5 days (MRI) and I123 MIBG (Figure 3): Showed a Lower thoracic activity mainly seen in and around T9 vertebral body. No evidence of active metastases in the rest of the body. Surgical biopsy of the lesion was done and that was biopsied and confirmed relapse NB.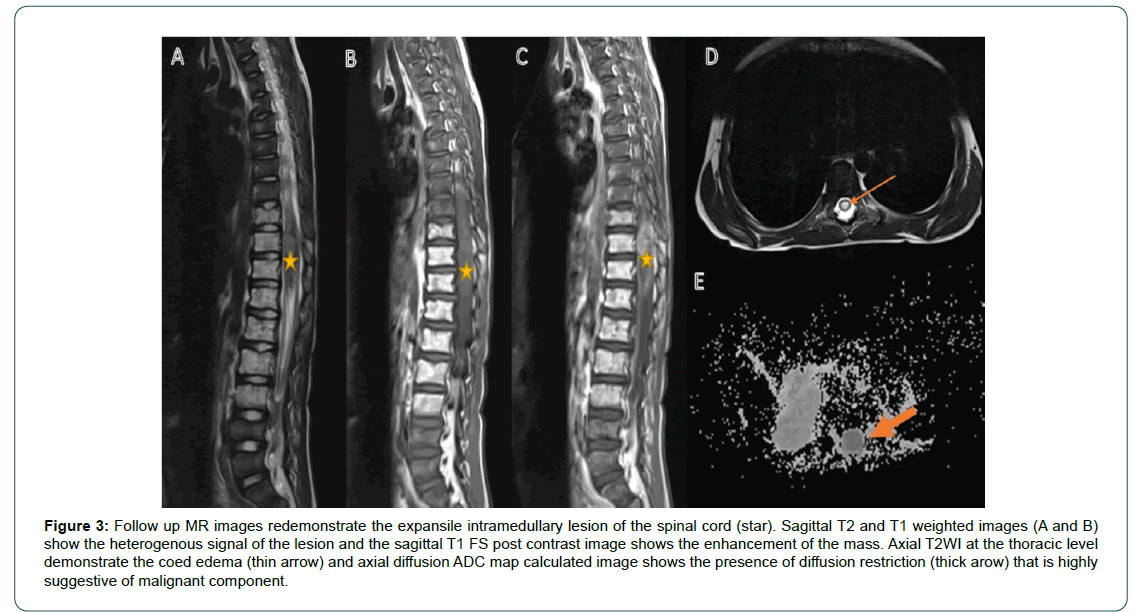 Figure 3: Follow up MR images redemonstrate the expansile intramedullary lesion of the spinal cord (star). Sagittal T2 and T1 weighted images (A and B) show the heterogenous signal of the lesion and the sagittal T1 FS post contrast image shows the enhancement of the mass. Axial T2WI at the thoracic level demonstrate the coed edema (thin arrow) and axial diffusion ADC map calculated image shows the presence of diffusion restriction (thick arow) that is highly suggestive of malignant component.
He was started on second-line therapy as per COG-ANBL1221. He tolerated anti GD2 fairly well this time. He had a good response after 2 cycles and he was in complete remission after 6 cycles. Two months from the last cycle, he presented with severe back pain, an MRI spine was obtained and demonstrated intramedullary cord mass (Figure 4).
Figure 4: MRI of the spine obtained 2 months after the second complete remission. Selected sagittal images in T2, T1 and T1 FatSat Post Gadolinium administration (A, B and C respectively) demonstrate the intramedullary cord mass (star).
He did not receive any further therapy because of his clinical condition and he died of progressive disease almost 16 months from the time of relapse.
Discussion
Spinal cord compression/involvement in neuroblastoma is usually secondary to extension of Paraspinal mass into the neural foramina causing compression of nerve roots and/or the spinal cord [6]. Intramedullary spinal cord mass has been reported at presentation in an adult patient 23 years old with GNB [5]. Two cases with isolated relapsed intraspinal NB have been reported by Frappaz D et al. [7].
Although details of images were not included in the report, however, the first case was described to have peridural and intradural mass rather than intramedullary disease. The disease of the second case was described to be involving the spinal cord with no further details on the images findings. To our knowledge, no report described a similar imaging finding to our case with isolated intramedullary spinal cord mass.
Several risk factors for the risk of CNS relapse have been described by different groups. In Berlanga P et al cohort, it seemed the risk of CNS relapse is more frequent in patients previously treated with immunotherapy and no HD [4]. Our patient did not receive immunotherapy but received HD therapy. The same report suggested that patients and disease features at diagnosis, such as female sex, MYCN amplification, hepatic, and >1 metastatic system/compartment involvement, were identified as significant risk factors for CNS relapse. K. Matthay reported that age lumbar puncture at diagnosis and MYCN-amplification [1]. Our patient had two highrisk features (age and more than one metastatic site). Kramer K et al also l performed an analysis of prognostic factors for CNS relapse and univariate analyses showed that LDH and lumbar puncture at diagnosis is associated with higher risk [2], our case did not have any of these factors.
Concerning CNS relapse treatment and outcome, the Overall Survival (OS) of patients with CNS recurrence is poor (one and three-year of OS of 25+/- 6% and 7+/- 4%) although patients who were treated with complete surgery, craniospinal radiotherapy and chemotherapy, mainly temozolomide-containing regimens, are long-term survivors [4]. In the St. Jude Children's Research Hospital experience, two of 10 children with CNS relapse treated multimodal therapy: craniospinal radiotherapy, surgery, and chemotherapy, were alive and disease-free after a follow up of 50 months and 62 months [8].
Conclusion
Surgical resection was not feasible in our case, however, he had an excellent response to chemotherapy and he achieved complete remission after a few cycles of chemotherapy but he did not regain any neurological function. He did not receive radiotherapy as he developed an infected deep bedsore that dedicate stopping therapy and unfortunately, he died of progressive disease.
References