Case Report, Clin Oncol Case Rep Vol: 3 Issue: 6
Increased Serum CEA in a Patient with Advanced Small Cell Neuroendocrine Carcinoma
Lidia H Van Der Helm1, Nina Kooij2, Michael Samson3, Marcella Van Der Graaf1 and John-John B Schnog1*
1Department of Medical Oncology and Haematology, Curaçao Medical Center, Curaçao
2Department of Pathology, Analytic Diagnostic Center, Curaçao
3Department of Radiation Oncology, Curaçao Medical Center, Curaçao
*Corresponding Author:
John-John B Schnog
Curaçao Medical Center
Department of Medical Oncology and Haematology
JHJ Hamelbergweg
Willemstad, Curaçao
E-mail: john.schnog@cmc.cw
Received: Septembert 01, 2020 Accepted: December 02, 2020 Published: December 20, 2020
Citation: Helm LHVD, Kooij N, Samson M, Graaf MVD, Schnog JJB (2020) Increased Serum CEA in a Patient with Advanced Small Cell Neuroendocrine Carcinoma. Clin Oncol Case Rep 4:1
Abstract
This case report describes a patient with liver metastases and a history of prostate cancer and colorectal cancer. Serum Carcinoembryonic Antigen (CEA) was strongly increased. A liver biopsy revealed a small cell neuroendocrine carcinoma instead of colorectal cancer, possibly originating from his prostate cancer. CEA staining indicated synthesis of CEA in the malignant cells.
Keywords:
Carcinoembryonic antigen; Small cell carcinoma; Neuroendocrine carcinoma; Prostate cancer
Keywords
Carcinoembryonic antigen; Small cell carcinoma; Neuroendocrine carcinoma; Prostate cancer
Introduction
By the end of the 20th century, various serum tumour markers were known including Carcinoembryonic Antigen (CEA). Sensitivity and specificity of CEA for colorectal carcinoma were recently estimated at 46% and 89%, respectively [1]. In early stages in which the tumour is limited to the colon, CEA is increased in less than 25% of patients [2]. Therefore CEA has little value as diagnostic test, especially when limited tumour burden is suspected. On the other hand, CEA has an important role in follow-up of established colorectal carcinoma, together with regular colonoscopy and imaging studies. In metastasized colorectal carcinoma CEA is increased in more than 65% of patients [3]. However, even with a previous history of colorectal carcinoma and the suspicion of a metastasized malignancy, CEA levels should be carefully interpreted. This case report illustrates that a strongly increased CEA in the context of previous colorectal carcinoma does not always indicate a relapse.
Case Report
A 59-year old Afro-Caribbean male presented with continuous pain in the upper right abdomen which had aggravated over a month. Seven years before, he had been diagnosed with both rectal cancer and prostate cancer. He had been treated with short course neoadjuvant radiotherapy followed by combined rectal amputation and radical prostatectomy. Pathology reported a ypT2N0M0 moderately differentiated rectal cancer with free margins and a pT2N0M0 Gleason 3+4=7 prostate cancer with focally involved margins at the urethra. Adjuvant radiotherapy could not be applied due to the previous radiation dose. Four years later he underwent transurethral resection of a local relapse of moderately to poorly differentiated prostate cancer. Two years ago, androgen deprivation therapy was initiated because of increasing serum PSA levels.
On physical examination, the liver was markedly enlarged. Blood results revealed increased liver enzymes with Lactate Dehydrogenase (LDH) levels of 3004 U/L (ULN (Upper Limit of Normal) 250 U/L). A CT scan showed extensive liver metastases, partial thickening of the bladder wall, one enlarged lymph node near the right arteria iliaca and milliairy lung metastases (Figure 1). No skeletal metastases were seen. Serum PSA and CEA levels were 4.9 ng/mL (ULN 2.5 ng/ mL) and 1327 ng/mL (ULN 10 ng/mL), respectively. The strongly increased CEA level would suggest the probability of metastatic rectal carcinoma; however the previous favourable pathology results, the long interval since the primary tumour and the short recent history pleaded against this diagnosis. Therefore, a liver biopsy was performed. Pathology revealed Small Cell Neuroendocrine Carcinoma (SCC; Figure 2). Because our patient was able and willing to undergo treatment he was started on carboplatin/etoposide. His condition quickly improved, pain diminished and he was discharged from the hospital. However, before starting the second cycle of chemotherapy his condition had again deteriorated. Therapy was stopped and he died shortly thereafter.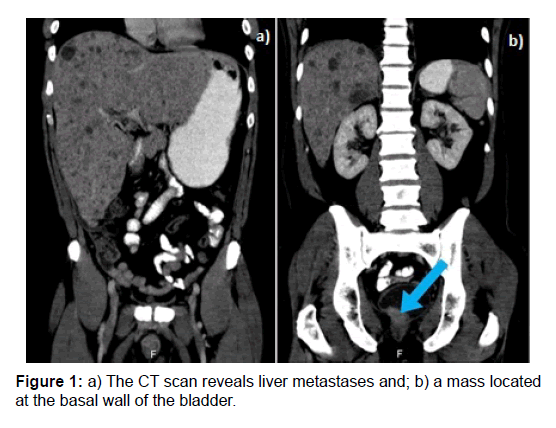 Figure 1: a) The CT scan reveals liver metastases and; b) a mass located at the basal wall of the bladder.
Figure 2: Liver biopsy, CEA staining, 10x enlarged (panel a) and 40x enlarged (panel b). These pictures reveal diffuse infiltration of small cell carcinoma cells that are strongly positive for CEA.
Discussion
In this case report, highly increased serum CEA levels were not associated with relapsed colorectal cancer but with metastatic SCC. The origin of the SCC in our patient was most likely his prostate cancer as it had been present and treated for several years and since a local mass was visible on the CT scan. Dedifferentiation to SCC has been reported in less than 1% of newly diagnosed prostate carcinomas, but the incidence increases to 17% in metastasized castrationresistant patients, probably in part due to therapy-enhanced cancer evolution [3]. Colorectal origin has been described in less than 4% of patients with extrapulmonal SCC [4,5]. In our patient, the favourable pathology results and the long interval since the primary rectal cancer argue against the SCC originating from his prior rectal cancer. Even though the SCC was Thyroid Transcription Factor-1 (TTF-1) positive, the fact that he never smoked and his chest X-ray was not suggestive of a primary lung cancer (no mass or widened mediastinum) makes a primary pulmonary SCC unlikely. Furthermore, TTF-1 positivity occurs in a high percentage of extra pulmonary small cell cancers, including those of prostatic origin [6,7].
In healthy individuals CEA is produced mainly in columnar epithelial cells of the colon, but is also expressed in small amounts in other tissues, including the stomach, esophagus, tongue, sweat glands, cervix and prostate [8]. In the colon CEA is released from the apical membrane into the lumen and excreted with faeces. Therefore serum CEA levels are normally low. In colorectal cancer however, cells lose their polarity and release CEA into the interstitial fluid, via which it enters the bloodstream [8]. Circulating CEA is rapidly degraded in the liver, with about 70% clearance per hour [9]. Therefore, (benign) liver disease can also result in elevated serum CEA levels. Several other benign and malignant causes are associated with increased CEA with less clear underlying mechanisms, including smoking, cholangitis, endometrial cancer and urinary bladder cancer [2,8]. Although little is known about serum CEA in SCC of the prostate, several case series have described increased CEA levels in androgen-independent prostate cancer and in poorly differentiated prostate cancer with low serum PSA [10,11]. Also various other extra-pulmonary SCCs have been reported to be associated with increased CEA expression, including SCC of the thyroid, esophagus and bladder. One third of all patients with pulmonary SCC have increased CEA levels, which is associated with poor survival [12]. It remains unclear whether the increased CEA in SCC results from overexpression of CEA in the malignant cells themselves or from other mechanisms such as decreased metabolism of CEA in the liver due to extensive liver metastases. In our case CEA staining of the histological liver biopsy was strongly positive indicating synthesis in the malignant cells.
Conclusion
Serum CEA levels have limited sensitivity and specificity as diagnostic test for colorectal cancer. Highly elevated serum CEA levels can also be detected in SCC, which in the case described above, was likely prostatic in origin.
Disclosures
All authors declare no conflicts of interest. No funding or financial support was received.
References