Case Report, Clin Oncol Case Rep Vol: 6 Issue: 1
Mesenchymal Chondrosarcoma of Mandible in an 11 Year Old: A Rare Case Report
Arsheed Hussain Hakeem1*, Meenakshi Swain2, Hassaan Javaid3, Novfa iftikhar3, Usaamah Javaid4
1Department of Head and Neck Oncology, Apollo Cancer Institute, Hyderabad, Telangana, India
2Department of Pathology, Apollo Cancer Institute, Hyderabad, India
3Department of Internal Medicine, Government Medical College Srinagar, India
4Department of Internal Medicine, Lok Nayak Jai Prakash Narayan Hospital, Jawahar Lal Nehru Marg, Delhi, India.
*Corresponding Author: Arsheed Hussain Hakeem
Department of Head and Neck Oncology
Room No: 10, Apollo Cancer Institute, Jubilee Hills, Hyderabad, Telangana, India 500096.
E-mail: drahhakim@gmail.com
Received: January 18, 2023; Manuscript No: COCR-23-87371;
Editor Assigned: January 20, 2023; PreQC Id: COCR-23-87371 (PQ);
Reviewed: January 27, 2023; QC No: COCR-23-87371 (Q);
Revised: January 29, 2023; Manuscript No: COCR-23-87371 (R);
Published: January 30, 2023; DOI: 10.4172/cocr.6(1).273
Citation: Hakeem AH, Swain M, Javaid H, Iftikhar N, Javaid U (2023) Mesenchymal Chondrosarcoma of Mandible in an 11 Year Old: A Rare Case Report. Clin Oncol Case Rep 6:1
Abstract
Mesenchymal chondrosarcoma is a rare, but high-grade malignancy arising from the skeletal or surrounding soft tissues. It is an unusual variant, a separate but distinct entity from conventional or dedifferentiated chondrosarcoma and constitutes fewer than 2% of all chondrosarcomas. We report a case of mesenchymal chondrosarcoma of the mandible in an 11 year old male child. Only 15 cases of mesenchymal chondrosarcoma have been reported in the mandible of patients less than 20 years old. We discuss the clinical presentation, radiologic findings, micr oscopic findings, immunohistochemistry and management of the case. Surgical treatment positively impacts survival, while role of chemotherapy and radiation needs to be studied further.
Keywords:
Mandible, Mesenchymal chondrosarcoma, Fibula osteocutaneous flap, Pediatric
Introduction
Mesenchymal chondrosarcoma was first described in 1959 by pathologists Lichtenstein and Bernstein as high-grade, unusual variant of chondrosarcoma affecting bone and soft tissues [1]. Clinically and pathologically it is a distinct from conventional or dedifferentiated chondrosarcoma and constitutes fewer than 2% of all chondrosarcomas [2,3]. In comparison to the conventional chondrosarcomas, it is rare and affects younger patients with a peak incidence during the 3rd decade [3]. It is locally aggressive malignancy and has high propensity to metastasize resulting in poor outcomes with reported 5-year and 10-year survival rates of 54.6% and 27.3%, respectively [3,4]. The main prognostic factors that determine the survival is the age, cranial involvement, size of the tumor and presence of metastases. Younger patients and cranial involvement have better prognosis, while large tumors or patients with metastasis have poor prognosis [5].
We report a case of mesenchymal chondrosarcoma of the mandible in an 11 year-old-male child, which was initially diagnosed as Ewing' tumour and had received 6 cycles of chemotherapy without any response. It is imperative to conclusively diagnose such malignancy so that standard of care is instituted early to achieve favorable outcomes without any delay.
Case Report
An 11-year-old male presented to our head and neck services with the swelling of the left mandible, with microscopic diagnosis of Ewing's sarcoma and had received 6 cycles of neoadjuvant chemotherapy as per COG protocol. Each cycle consisted of injection Ifosfamide 2000 mg for five days along with injection Mesna and injection Etoposide 150 mg over 3 hours for 3 days.As there was no regression of the mass despite 6 cycles of neo-adjuvant chemotherapy, the patient's parents sought a second opinion from our head and neck services. We reviewed the case, the initial biopsy and immunehistochemistry favored Ewing's sarcoma as the tumor cells were CD99 +ve; S100-ve; NKX2.2 focal positive in few cells; Desmin –ve; Mayo D1-ve; FLI-1 +ve in few cells. It was gradually progressing in size with no history of fever, weight loss, trauma or any other swelling in the body. On clinical examination there was a visible and palpable non tender swelling involving the horizontal ramus of the left mandible (Figure 1A). An ortho-pantomogram was done which revealed a lytic lesion in the horizontal ramus of the mandible (Figure 1B). We repeated the PET/CT scan and compared to the previous scan before neo-adjuvant chemotherapy, which revealed marginal increase in the size of the tumor with no distant metastasis (Figure 2A and 2B). Since the tumor had not responded to the chemotherapy, the child underwent segmental resection of the mandible with selective neck dissection of level I to III left side with reconstruction of the mandible with free fibula micro vascular tissue transfer (Figure 3). Microscopic study of segmental resection revealed viable tumor cells round/ovoid to spindle cells arranged in sheets and fascicles with vesicular nuclei (Figure 4A and 4B) with intervening thin walled dilated blood vessels, few of which appear stag horn like (Figure 4C). Intervening mature hyaline cartilaginous foci were seen with occasional mitosis (Figure 4D). Immuno-histochemistry showed NKX2.2 nuclear staining was positive in 80% of tumor cells (Figure 5A) and S100 was positive in cartilaginous areas (Figure 5D). Tumor cells were negative for TLE-1, STAT-6 and CD34 (Figure 5B). MIB-1 index was reported as 14% (Figure 5C). Overall morphology was in favor of the mesenchymal chondrosarcoma. Both soft tissue and bony margins were free of invasive malignancy. All the nodes dissected were negative for any focal metastasis. The patient received radiotherapy as adjuvant treatment. He has completed 3 years of follow up with no signs of recurrence either local or distant and is being followed up 6 monthly.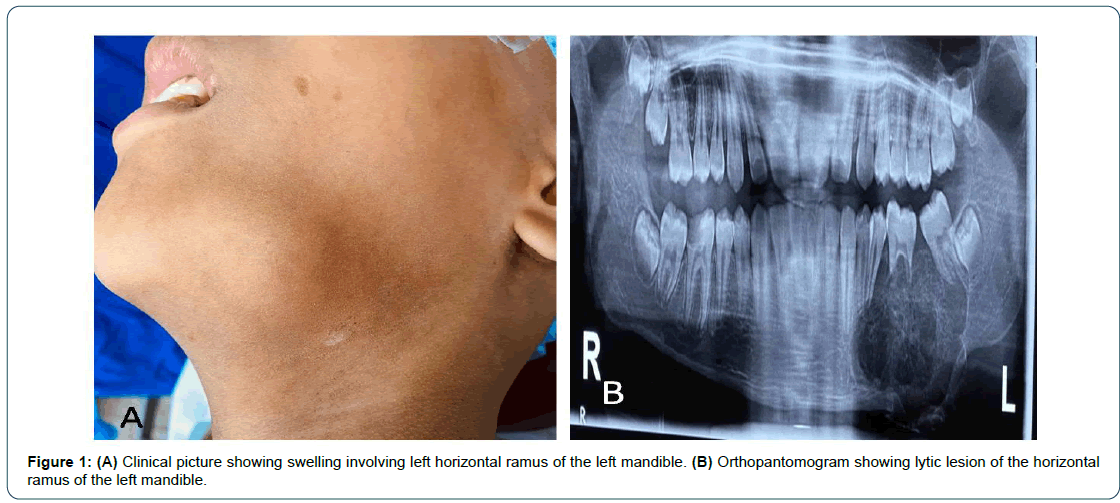 Figure 1: (A) Clinical picture showing swelling involving left horizontal ramus of the left mandible. (B) Orthopantomogram showing lytic lesion of the horizontal ramus of the left mandible.
Figure 2: (A) CT scan axial cut showing large lytic lesion involving left mandible with calcification both in the central and peripheral regions. (B) PET CT scan axial view of the FDG active lytic lesion of the left mandible.
Figure 2: Clinical picture showing maintenance of the facial symmetry after reconstruction with free fibula micovascular tissue transfer.
Figure 4: (A) Picture shows round to ovoid spindled cells tumour cells arranged in sheets and fascicles. H&E- 10X. (B) Higher magnification showing round to ovoid spindled cells with vesicular nuclei. H&E (40X). (C) Picture shows with intervening thin walled dilated blood vessels (few of which appear stag horn). H&E (10X). (D) Picture shows intervening foci of mature hyaline cartilage. H&E (10X).
Figure 5: (A) Picture shows nuclear positivity for NKX 2.2 in about 80% of tumor cells. IHC-20X. (B) Tumour cells show negative immunohistochemistry for TLE1, STAT6 and CD34. IHC-20X. (C) MIB-1 index is about 14%. IHC-20X. (D) S100 positivity seen in cartilaginous areas. IHC-20X.
Discussion
Mesenchymal chondrosarcoma is more commonly seen in the early adulthood i.e. early 20s with no predilection for gender [6, 7]. It forms 8.8% of all chondrosarcomas and more than half of mesenchymal chondrosarcomas have been reported in the skull bones, maxillofacial region, ribs and pelvis [8]. The reported incidence of the mesenchymal chondrosarcoma in the maxilla and mandible are 17.1% and 11.8%, respectively [9]. Clinically, they usually present as painless progressive swelling with slow growth. Absence of pain and slow progression may be the reason, why patients seek late opinion from clinicians and delayed detection. For same reasons, our patient also presented after a delay of approximately one year after appearance of painless progressive swelling of left mandible. During this period large area of the horizontal ramous of the mandible showed a lytic lesion on orthopantomogram (Figure 1B). They may also present as painful masses, hearing loss and epistaxis depending on the site of involvement. Radiology is not usually helpful in diagnosing the disease. Radiology usually shows mixed lytic and sclerotic lesion in 61.5% cases or purely lytic in 31% cases, while 8% may also present as a juxta-cortical mass [10]. Calcification due to cartilaginous ossification is a characteristic imaging finding as these are seen in 65% cases [10]. Calcifications can be either peripheral or central or both. In our case ossifications were seen in the central as well as peripheral regions (Figure 2A).
Microscopically, biphasic histology is noted, either small round cell components are seen which may be sometimes also referred to as "Ewing-like" and/or hemangiopericytoma-like components in the background of island of well-differentiated chondroid tissue are seen. Mandibular mesenchymal chondrosarcoma are postulated to originate from remnants of the Meckel's cartilage [11]. Lockhart et al investigated and elucidated the morphology of the haemangiopericytoma- like appearance of mesenchymal chondrosarcoma and found that the vascular channels have an endothelium; Mikata et al. described whorls of tumor cells around this vasculature in their ultrastructural account [12,13]. This haemangiopericytoma-like pattern can be seen in many mesenchymal tumors like fibrous histiocytoma, liposarcoma, osteogenic sarcoma and synovial sarcoma [14]. All these tumors lack presence of cartilaginous differentiation, the key diagnostic feature of mesenchymal chondrosarcoma. Diagnosing the mesenchymal chondrosarcoma on limited biopsy tissue is a challenge. Our patient on initial biopsy was diagnosed as Ewings sarcoma due to the limitation of available tissue for the diagnosis. Hence, he was treated with six cycles of neo-adjuvant chemotherapy unnecessarily. The disease even after six cycles of chemotherapy showed progression. Due to no response to the neo-adjuvant chemotherapy, patient's parents sought second opinion at our head and neck services. To avoid wrong diagnosis at initial biopsy, we are in favor of obtaining an adequate and representative pathology specimen to exactly diagnose this rare form of chondrosarcoma. Even a second opinion from an experienced pathologist is of value to arrive at a correct diagnosis so that standard treatment can be instituted as early as possible to achieve favorable treatment outcomes. Takahashi et al. also recommend viewing multiple sections of a given sample in order to be sure of a diagnosis [15]. The morphology of this tumor imitates that of Ewing's sarcoma and pathologists need to be careful, while diagnosing this rare entity. To overcome such a challenge, a potential diagnostic tool, a unique fusion transcript called HEY1-NCOA2 was identified for mesenchymal chondrosarcomas to help differentiate it from other variants [16]. Mesenbchymal chondrosarcoma do not have specific characteristic imaging characteristic that help in diagnosis, but it plays an important role in biopsy planning and is essential for staging.
As of now wide surgical excision with adequate margins is the standard of care to achieve long term disease free survival. Reconstruction in cases where the primary tumor is of mandibular origin should be done at the same time [17]. Although these tumors are resistant to the chemotherapy and radiotherapy, but these can be used in case where tumors cannot be completely resected because of location, inoperability or other contraindications.9 Hollins et al. reported a case where radiation alone caused tumor to regress temporarily, but metastasis occurred to the lungs after 3 years. The case scummed to the recurrence even after the chemotherapy and surgical de-bulking lent a few more years to this patient's life [18]. Huvos et al. are of the view that the less-differentiated small cell variant is amenable to chemotherapy and irradiation treatments whereas the treatment of the haemangiopericytoid variant benefited more from surgical treatment [8].
Conclusion
In conclusion mesenchymal chondrosarcoma is rare but truly aggressive and life-threatening malignancy. Early microscopic diagnosis will help in proper diagnosis and institution of standard treatment to enhance cure rates. Aggressive ablative surgery should remain the first line of therapy to decrease chances of the local recurrence or metastases. Role of neo-djuvant chemotherapy and adjuvant radiotherapy needs to be studied further.
Conflicting Interest
The authors declare that they have no conflict of interest.
References