Case Report, Clin Oncol Case Rep Vol: 5 Issue: 2
Pure Squamous Cell Carcinoma of Breast which got Long Duration Response and Survival by Sequential Chemotherapy with Combination of Paclitaxel + Bevacizumab, and S-1 Under Limited Treatment Strategy: A Case Report
Mariko Man-i1, Yoshinari Okada2, and Toshio Nishi1
1Department of Surgery, Tane General Hospital, Osaka, Japan
2Department of Medical Oncology, Tane General Hospital, Osaka, Japan
*Corresponding Author:
Mariko Man-I
Department of Surgery,
Tane General Hospital,
1-12-21 Kujominami, Nishi-ku, Osaka, 550-0025, Japan
E-mail: mariko-m@bc5.so-net.ne.jp
Received: December 25, 2021, Manuscript No: COCR-21-50217;
Editor assigned: December 28, 2021, PreQC No: P-50217;
Reviewed: January 25, 2022; QC No: Q-50217;
Revised: February 02, 2022, Manuscript No: R-50217;
Published: February 10, 2022, DOI: 10.4172/cocr.5(2).214
Citation: Man M, Okada Y, Nishi T (2022) Pure Squamous Cell Carcinoma of Breast which got Long Duration Response and Survival by Sequential Chemotherapy with Combination of Paclitaxel Bevacizumab, and S-1 Under Limited Treatment Strategy: A Case Report. Clin Oncol Case Rep 5:2.
Abstract
Pure Primary Squamous Cell Carcinoma of Breast (SCCB) is extremely rare and aggressive. This study presents a case of 77-year-old woman with rapid-growing ulcerating 6 cm left breast mass and comorbidity of nontuberculous mycobacterial infection. SCCB was diagnosed by fine-needle aspiration biopsy, and smears characterized by Triple-Negative Breast Cancer (TNBC). Modified radical mastectomy with axillary lymph node dissection was performed, followed by adjuvant radiotherapy and 4 cycles of chemotherapy: weekly Paclitaxel (PTX) + Bevacizumab (Bmab). After progression, capecitabine was administered until lung metastasis was detected. Subsequently, two regimens (Atezolizumab + nab-PTX and eribulin) revealed progressive disease. Next, oral Tegafur/Gimeracil/Oteracil (S-1) was administered, and partial response in lung metastasis revealed for 5 months. However, cerebellar metastasis was detected newly, palliative radiation therapy and intracranial decompression performed. After radiation, patient's general condition worsened gradually, and best supportive care was initiated in palliative care unit. She died due to tumor progression 29 months after diagnosis.
We also analyzed 117 case reports of Japanese SCCB up to 2021 from Japan Medical Abstracts Society. SCCB has unique biological characteristics, including low estrogen and progesterone receptor levels. Issue of adjuvant chemotherapy remains unsolved owing to lack of data. Treatment strategy should be tailored to fit its distinct biological characteristics. Given high risk of SCCB, this report presents important findings for postoperative treatment. Bmab is to be warranted in combination with PTX for TNBC, along with radiation for heavily treated immunosuppressed metastatic breast cancer. Furthermore, S-1 was effective and feasible without an anti-emetic steroid in our case.
Keywords:
Squamous cell carcinoma; Triple negative breast neoplasms; Paclitaxel; Bevacizumab, Tegafur/Gimeracil/Oteracil
Introduction
Pure primary Squamous Cell Carcinoma of the Breast (SCCB) is an exceedingly rare type of neoplasm, and according to the General Rules for Clinical and Pathological Recording of Breast Cancer published by the Japanese Breast Cancer Society, it accounts for approximately 0.1%-0.4% of all breast malignancies [1-3]. It should be diagnosed when malignant cells are of the squamous type. The diagnosis requires that>90% of malignant cells are of squamous cell origin [4-7]. Current published reports concerning SCCB are mostly isolated case reports or small case series. The largest series are those by Wargotz and Norris [8] and Hennessy et al. [5], who reported only 22 and 33 cases, respectively.
The tumor should also be independent of the overlying skin and the nipple, and other probable squamous cell carcinoma sites should be ruled out to exclude any metastatic disease [6,7]. Due to the rarity of this disease, to the best of our knowledge, there have been no reports regarding characteristic findings that facilitate the diagnosis of SCCB in contrast to the usual types of breast cancer based on the findings of preoperative imaging. Clinical examinations and mammography are usually non-specific for SCCB [10]. Moreover, it is thought that there are no options but to perform cytology using Fine-Needle Aspiration Biopsy (FNAB) to obtain a definite diagnosis [4,5]. The natural course of SCCB seems to be indolent but potentially locally more aggressive [8], with hormone receptor-negative and treatment-refractory tumors of a poor prognosis [11]. The response to adjuvant chemotherapy and/or radiotherapy is poor, which is considered to be reflected in the higher rate of lymph node metastasis than of other pathological types of breast cancer [12]. Indeed, there are several reports of cases that have advanced due to the lack of standard therapy [13].
Herein, we report the case of a 77-year-old woman with a diagnosis of SCCB, which developed into a rapidly progressed large mass comprising a central abscess; review the clinical, imaging, pathological, and biological characteristics of 117 SCCB case reports up to 2021 in the Japan Medical Abstracts Society; and evaluate the therapeutic strategies.
Case Presentation
Approval by the ethics committee or institutional review board was not necessary because this is a noninvasive follow-up observation study. Verbal informed consent was obtained from the patients for this study.
A 77-year-old, multiparous, postmenopausal woman with no remarkable family history was admitted to our institute, complaining of a 60 mm rapidly growing ulcerating and bleeding lobulated tumor in the left C region within 2 months duration. The tumor was fixed to the pectoral muscle, and the skin was infiltrated. No abnormal nipple discharge was observed, and the axillary lymph nodes were palpable. The right breast was negative on palpation and mammography. The patient had a moderate built. Computed Tomography (CT) revealed some consolidation in the middle lobe of the lung, but the sputum test revealed nontuberculous mycobacterial infection. Findings of the peripheral blood test and blood biochemistry test were normal, and serum levels of tumor markers [Carcinoembryonic Antigen (CEA) and Cancer Antigen 15-3 (CA15-3)] were within normal limits.
Mammography examination was canceled for tumor ulcers, although ultrasonographic analysis revealed a hypoechoic and irregular surface cystic tumor in the C region of the left breast. CT demonstrated an irregularly shaped mass with a central low-density area, suggesting inner necrosis in the upper outer quadrant of the left breast (Figure 1). FNAB revealed the pathological type of squamous cell carcinoma, with ki-67 titer >90% (Figure 2).
Figure 1: Preoperative computed tomography image and ultrasonographic analysis. Mammography was canceled for the ulcer of the tumor, although ultrasonography showed a hypoechoic, irregular surface tumor, and a CT scan demonstrated an irregularly shaped mass with a central low-density area suggesting inner necrosis.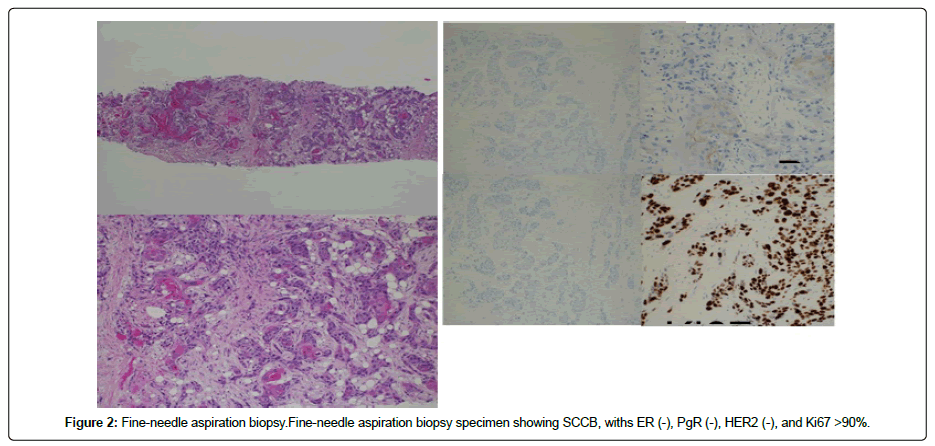 Figure 2: Fine-needle aspiration biopsy.Fine-needle aspiration biopsy specimen showing SCCB, withs ER (-), PgR (-), HER2 (-), and Ki67 >90%.
Based on the findings, the patient was preoperatively diagnosed with T4N2M0 Stage IIIb left breast cancer. Therefore, a modified approach of radical mastectomy with axillary lymph node dissection was performed. On gross examination, the tumor was a solid light gray nodular lesion with distinct borders, measuring 45 mm × 30 mm × 60 mm. The histopathological diagnosis was moderately differentiated pure squamous cell carcinoma with prominent keratinization, and prominent inflammatory cell infiltration, necrosis, and fibrosis were observed. No evidence of glandular differentiation was observed. The specimens were ly+, v+. Lymph node metastases were observed at the pN2 (4/9) level 1. Immunohistological staining revealed that each hormone receptor was negative: Estrogen Receptor (ER) at <1% and Progesterone Receptor (PgR) at <1%. The Human Epidermal Growth Factor Receptor 2 (HER2) score was 1+, but it was only a reference value. Based on the above findings, the final diagnosis was stage IIIB TNBC, pT4bN2cM0, ly1, v1, fs (Figure 3).

Figure 3: Surgical and histological findings of the resected specimen. Modified radical mastectomy with axillary lymph node dissection was performed, and the histopathological diagnosis was pure SCCB, triple-negative type (TNBC) with axial lymph node metastasis, p Stage IIIB.
The postoperative clinical course of the patient was uneventful and favorable, and no target lesions were detected. Therefore, Paclitaxel (PTX) + Bevacizumab (Bmab) was administered as an adjuvant after Postmastectomy Radiation Therapy (PMRT) (50 Gy/ 25 Fraction).
Clinical Course
The patient was periodically examined using full-body or local diagnostic imaging studies such as CT and Magnetic Resonance Imaging (MRI) and blood tests. To prevent early relapse, chemotherapy with PTX + Bmab was administered as an adjuvant therapy. There were no indications for relapse until lung metastasis was detected, with no severe Adverse Events (AEs) than grade 2 in the Common Terminology Criteria for Adverse Events (CTCAE) version 5.0 and symptoms of blood spitting or bloody phlegm. As second-line chemotherapy, non-steroid-requiring capecitabine chemotherapy was chosen to prevent aggravation of nontuberculous mycobacterial infection; however, this revealed a Progressive Disease (PD), with bronchopulmonary hemorrhage of Grade 3 due to exacerbation of the bloody phlegm. Next, we selected other non-steroid-requiring regimens with atezolizumab + nab-PTX because of positive signals for Programmed Cell Death Ligand 1 (PD-L1); however, this lesion showed progression during only three courses, and thereafter, eribulin was administered and PD was revealed after three cycles; however, these findings indicated no obvious AEs.
Subsequently, Tegafur/Gimeracil/Oteracil (S-1) was started, and lung metastasis showed slight shrinkage one course later (Figure 4) and was restrained for 5 months.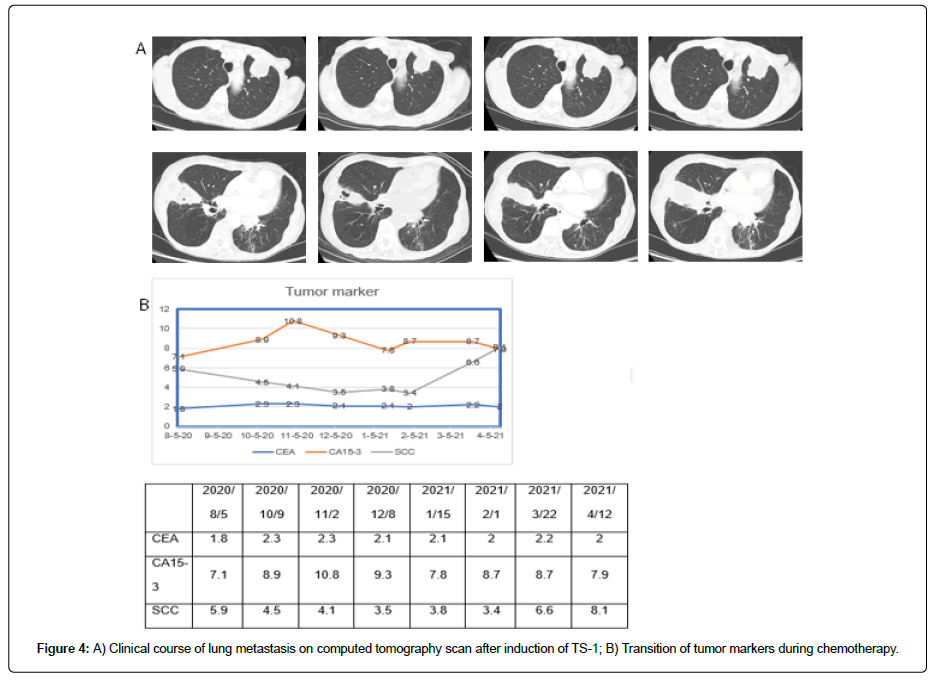 Figure 4: A) Clinical course of lung metastasis on computed tomography scan after induction of TS-1; B) Transition of tumor markers during chemotherapy.
The tumor marker CEA and CA19-9 levels remained unchanged and did not reflect the state of this case. Then, we checked for other tumor markers with squamous cell carcinoma antigen (SCC) (Figure 4), which might indicate the proportion to the progression of this disease. There was no relapse of blood spitting nor any other AEs. However, cerebellar metastasis was detected newly, with symptoms of dizziness and nausea (Figure 5).
Figure 5: The newly detected cerebellum metastasis on magnetic resonance imaging, with symptoms of dizziness and nausea on 22 months after diagnosis.
Stereotactic radiotherapy (35 Gy/5 Fraction) was first initiated, and intracranial decompression was performed due to palliation of the symptoms, according to the cerebellum metastasis. After identifying the PD as lung metastasis, cerebellum metastasis expanded, and the patient preferred palliative therapy with narcotic analgesics and steroids. Her general status declined, and she died 1 month after admission. Postmortem autopsy was not performed.
Literature Case Review
Demographic data
We identified 117 relevant case reports of Japanese SCCB up to 2021 in the Japan Medical Abstracts Society. The results are summarized in Table 1. Attention was paid to clinical presentation, radiographical and histopathological findings, the status of ER and PgR, HER2 overexpression, lymph node status, and treatment. The cStage was I; 12 cases, IIA/IIB; 38/16 cases, IIIA/IIIB/IIIC; 16/24/1 cases, and IV; 5 cases, and there tended to be more frequent in advanced stage III. Skin disorders were often observed in 29 cases (redness; 15/ ulcer, fistula; 4, bleeding; necrosis, 7). Lymph node metastases were detected in 50 patients (> n2; 15 cases). The main surgical methods were mastectomy with lymphadenectomy (Bt; 77 cases, SN2/ AX73/ radical mastectomy, 5 cases; and Bp, 10 cases. Hormone receptors were almost negative in many cases (ER-, 95 cases; PgR-, 100 cases), and hormone therapy was not attempted in 97 cases. Adjuvant and/or neoadjuvant chemotherapy was administered in 76 cases (preoperative, 15 cases; postoperative, 61 cases), whereas adjuvant radiation therapy was attempted in only 14 cases.
Treatment
Conventional chemotherapy for breast cancer (AC, T, AC + T, CMF, and EC) were attempted, but other chemotherapies (CDDP, FP, PTX, DTX, eribulin, and VNR) were also examined. Chemotherapy regimens are presented in Table 2. A summary of successful treatment cases is described in Table 3. FP, DTX, PTX, capecitabine, and S-1 were used for the treatment of recurrence. Capecitabine therapy resulted in a long PR of 18 months, and S-1 disappearance also induced the disappearance of the squamous cell component.
Discussion
Pure primary SCCB was first reported in 1936 by Pasternack and Wirth [1] and Troll in 1908 [14]. It is a relatively rare histopathological type of breast cancer, accounting for only 0.1%-0.4% of all breast cancer cases [2,3]. The current literature on primary SCCB is limited mostly to isolated case reports and small case series [2-4,6,8]. A few large-scale studies focusing predominantly on the clinical behavior of primary SCCB have been published [5,7,15-18]. However, these studies yielded inconsistent results. The age and disease presentation of our patient were similar to those of other pathological types of breast cancer [19]. The usual presentation of these tumors is a firm to hard painless breast lump that is clinically indistinguishable from other malignant breast tumors [20,21], often growing over the course of 1-2 weeks [1,11-14] and being relatively large, with a median size of 4 cm (range 2 cm-3 cm) [3,8,15, 22]
The etiology and pathogenesis of SCCB remain unclear, and its exact histogenesis remains obscure. It is assumed to originate directly from the epithelium of the mammary ducts, or alternately, it may arise from the foci of squamous metaplasia within a pre-existing adenocarcinoma. Moreover, squamous cell metaplasia has been reported in cysts, chronic inflammations, abscesses, and adenofibroma [6,7], which would mislead to an initial diagnosis of "breast abscess" in several cases [23-25]. It also displays both stratification and keratinization and/or intercellular bridges [26]. These carcinomas are classified based on varying proportions of squamous cell carcinoma or adenocarcinoma into either mixed or pure carcinomas, respectively. Conversely, some pathologists may not adhere to the strict definition of primary SCCB, which requires >90% of squamous differentiation, and may consequently over-diagnose squamous cell carcinoma. The tumor should also be independent of the overlying skin and nipple, with other primary SCC sites, such as the oropharynx, esophagus, lung, anal, and uterine cervix being ruled out to exclude metastatic disease [27]. The World Health Organization (WHO) classification identifies large-cell keratinizing, spindle cell, and acantholytic variants of SCCB [28]. Identification of in situ carcinoma serves to support primary breast malignancy [8].
Positron emission tomography may be a useful investigative tool for excluding such malignancies. Cases displaying only a pure squamous cell carcinoma component are extremely rare, accounting for 0.02%-0.075% of all breast cancer cases [3,15]. In the present report, the tumor was of the pure type. It has been reported that these cancers occur at a slightly more advanced age than general breast cancers. These tumors usually have a rapidly growing pattern that enlarges over a period of 2-3 weeks [14,29]. Approximately two-thirds of them are cystic or have a cystic component with central necrosis [7,25,30]. They are often accompanied by necrotic foci, hemorrhagic foci, cyst formation, and inflammatory changes. This is because the tumors have a rapid rate of evolution, and therefore, the frequency of lymph node metastasis is relatively higher than that of general types of breast cancer [12], although a previous study has reported that the frequency is low [31]. Moreover, the patient tested negative for ER and PgR. It is generally considered that SCCB frequently tests negative for hormone receptors [5], indicating histological evidence of poor differentiation. Some reports have discussed how this relates to Epidermal Growth Factor Receptor (EGFR) and HER2 findings and have suggested that EGFR and HER2 are generally considered to be important prognostic factors for breast cancer and that they negatively correlate with ER [32]. Mammographic findings of SCCB are nonspecific; however, they often appear as irregular masses with poorly defined margins [33]. The most consistent feature of SCCB on mammography is the absence of microcalcification, in contrast to the features of other general breast malignancies [34]. MRI may reveal central necrosis or cysts.
Ultrasound findings of the breast have been reported to be more helpful, revealing solid hypoechoic masses with complex cystic components [9] and internal blood flow, while some of the findings indicate malignancy.
Clinically, to the best of our knowledge, there have been no reports of preoperative imaging findings that distinguish SCCB from general types of breast cancer. The diagnosis of SCCB can only be suggested by cytology with FNAB, even if all the neoplastic cells are of the malignant squamous type. The possibility of ductal carcinoma with squamous differentiation can only be completely excluded by an adequate histopathological examination of the entire tumor [13]. Thus, surgical biopsy is usually required to establish the diagnosis of SCCB and should be considered and excluded clinically before radical mastectomy [35]. It is also important to discriminate SCCB from metastatic squamous cell carcinoma [36].
The prognosis is dependent on several factors, such as tumor stage, lymph node metastasis, and tumor size. The tumor tends to be larger than other types of breast cancer over a small period. Breast conservative surgery is not usually possible [5]. The presence of lymph node metastasis at the time of diagnosis is a poor prognostic indicator and marker [8]. Prognosis is controversial, although most studies have reported the locally advanced and aggressive behavior of the tumor, which is associated with frequent recurrence and metastasis, resulting in deaths [5]. Adjuvant chemotherapy is generally recommended. However, the standard regimen prescribed for SCCB is not known because of the lack of data.
Most of these tumors have been reported to be ER and PgR negative [7] and do not require endocrine therapy [12]. In contrast, another report has indicated that treatment such as that used for general types of breast cancer should be selected [37]. Chemotherapy is often chosen for lymph node-positive cases, similar to that for general breast cancer cases. SCCB is reported to be resistant to standard chemotherapy, including anthracycline-or taxane-based regimens [22,24,34]. However, platinum-based chemotherapeutic regimen has been recommended [16,18,38-40].
VP (Vinorelbine And Cisplatin), CP (Cyclophosphamide snd Cisplatin), and TP (Paclitaxel And Cisplatin), all responded well. FP (Cisplatin and 5-Fluorouracil) or FAP (FP combined with Doxorubicin) have also been recommended [29,38]. A recent case report also indicated that the microtubule inhibitor PTX and eribulin as a neoadjuvant setting is also useful [34].
Sequential use of non-conventional, platinum-based chemotherapy, combined with microtubule inhibitors (PTX, DTX, VNR, Eribulin) and/or molecular-targeted agents (EGFR, VEGF inhibitors) have also shown favorable treatment results in TNBC cases [41-44].
S-1 has been reported to be non-inferior to taxane with respect to overall survival as a first-line treatment for advanced metastatic breast cancer [45], and also as effective and well-tolerated capecitabine [46].
There have been few reports on the efficacy of S-1 chemotherapy for SCCB, but some reports have demonstrated that squamous cell carcinoma, such as head and neck cancer, cervical cancer, and non-small-cell lung cancer, are sensitive to S-1 chemotherapy [47-50].
In this locally advanced and metastatic immunosuppressed tumor, with comorbidity of nontuberculous mycobacterial infection, the selection of high or moderate emetic risk drugs was apprehensive because the guidelines for antiemesis for chemotherapy-induced nausea and vomiting highly recommend the use of steroids for high or moderate emetic drugs, such as cisplatin, epirubicin, and doxorubicin, although these are expected to be desirable for Squamous Cell Carcinoma (SCC). Adaptation of therapy with a low or minimum emetic risk (Bmab, PTX, capecitabine, atezolizumab, nab-PTX, eribulin, S-1) has been suggested to be safe and favorable, without the requirement of steroids for anti-emetics [51].
During administration of chemotherapy in this case, SCC perceptively reflected the progression of lung metastasis, whereas CEA and CA15-3 levels did not change. The association between SCC and breast cancer progression has been reported but not as commonly as uterine cervix, head and neck, and lung cancers, which comprise the major histological types of SCC [52].
The role of postoperative radiation therapy remains unclear, but radiotherapy might have an important role in management in view of locally advanced diseases at presentation, given that SCC at other sites is generally considered to be radiosensitive [7,14].
Multidisciplinary clinical trials are eagerly awaited because there is currently no established chemotherapy and radiotherapy. We have noted that extremely rare primary pure SCCB Stage IIIC, which is triple negative as well as lymph node metastasis positive, seem to have a poor prognosis.
Therefore, we should always consider the presence of primary pure SCCB, even if the crisis rate is very low. Therefore, we performed FNAB to make a definitive diagnosis, if necessary. Given that there is no established strategy, urgent treatments such as chemotherapy are necessary. Currently, to the best of our knowledge, there are no reports concerning other determining factors for prognosis or diagnosis, and we look forward to the publication of additional case reports and future research into the basic pathology of the disease.
Conclusion
Pure primary SCCB is a rare, aggressive, treatment-refractory tumor associated with early relapses and poor survival. Clinical and radiographic characteristics are not specific, except for the presence of cystic lesions, and it usually presents as large primary tumors and triple-negative tumors. The accurate efficacy of radiation and chemotherapy, such as platinum and taxane therapies, should be explored in a clinical trial to draw specific guidelines. Furthermore, Bmab has been reported to be effective for TNBC, and radiation therapy is effective for SCC.
A CT scan detected an enlarging lung lesion 1 month after surgery, and close follow-up is required; moreover, follow-up examination of serum SCC antigen is useful to detect tumor progression.
The candidate for chemotherapy as the salvage treatment was worrisome due to the treatment-refractory and comorbidity of nontuberculous mycobacterial infection; nevertheless, a low emetic risk and non-steroid-requiring S-1 monotherapy was feasible and effective and resulted in significant survival benefits in this case.
Acknowledgment
No assistance was received from any corporation in relation to this report.
Conflict of Interest
The authors have no competing interests to declare. The authors declare no relevant financial interests.
Author Contributions
Mariko Man-i and Yoshinari Okada initiated and co-wrote the paper, took part in the care of the patient, and examined the specimen and took care of the illustrations.
Data curation: Mariko Man-i, and Yoshinari Okada
Formal analysis: Mariko Man-i
Resources: Tane General Hospital
Writing original draft: Mariko Man-i, and Yoshinari Okada
Writing review and editing: Mariko Man-i, and Yoshinari Okada
Consent
Written informed consent was obtained from the patient for publication of this case report and accompanying images. A copy of the written consent is available for review by the Editor-in-Chief of this journal upon reasonable request.
References
Pasternack JG, Wirth JE (1936) Adenocarinoma saromatodes of the mammary gland. Am J Pathol 12: 423-435.
Woodard BH, Brinkhous AD, McCarty KS, McCarty Jr KS (1980) Adenosquamous differentiation in mammary carcinoma: An ultrastructural and steroid receptor study. Arch Pathol LabMed 104:130-133.
Google Scholar Cross Ref
Toikkanen S (1981) Primary squamous cell carcinoma of breast. Cancer 48: 1629-1632.
PubMed Cross Ref
Siegelmann Danieli N, Murphy TJ, Meschter SC, Stein ME, Prichard J (2005) Primary pure squamous cell carcinoma of the breast. Clin Breast Cancer 6: 270-272.
Google Scholar Cross Ref
Henessy BT, Krishnamurthy S, Giordano S, Buchholz TA, Kau SW, et al. (1997) Squamous cell carcinoma of the breast. J Clin Oncol 23: 7827-7835.
Google Scholar Cross Ref
Rosen PR (1997) Rosen's Breast Pathology Chapter 21: Philadelphia, New York: Lippincott Raven 397-404.
Behranwala KA, Nasiri N, Abdullah N, Trott PA, Gui GP (2003) Squamous cell carcinoma of the breast: Clinicopathologic implications and outcome. Eur J Surg Oncol 29: 386-389.
Google Scholar Cross Ref
Wargotz ES, Norris HJ (1990) Metaplastic carcinomas of the breast. Squamous cell carcinoma of ductal origin. Cancer 65: 272-276.
Google Scholar Cross Ref
Toikkanen S (1981) Primary squamous cell carcinoma of the breast. Cancer 48: 1629-1632.
Google Scholar Cross Ref
Van GM, Schelfout K, Jacobs W, Verslegers I, Biltjes I, et al. (2003) MR mammography of a primary squamous cell carcinoma of the breast: A case report. Breast 12: 212-214.
Google Scholar Cross Ref
Siegelmann Danieli N, Murphy TJ, Meschter SC, Stein ME, Prichard J (2005) Primary pure squamous cell of the breast. Clin Breast Cancer 6: 270-273.
Google Scholar Cross Ref
Kato K, Yamamoto S, Hato S, ITO A (1997) Breast-conserving surgery for squamous cell carcinoma of the breast: report of a case. J Jpn Surg Assoc 58: 338-340.
Google Scholar Cross Ref
Nishi T, Kan K, Kawabata Y (1994) A case of squamous cell carcinoma of the breast. J Jpn Surg Assoc 55: 740-743.
Google Scholar Cross Ref
Troell A (1908) Zwei Falle von Palttenepithelcarcinom. Nord Med Ark 1: 1-11.
Google Scholar
Eggers JW, Chesney TM (1984) Squamous cell carcinoma of the breast: A clinicopathologic analysis of eight cases and review of the literature. Hum Pathol 15: 526-531.
Google Scholar Cross Ref
Stevenson JT, Graham DJ, Khiyami A, Mansour EG (1996) Squamous cell carcinoma of the breast: A clinical approach. Ann Surg Oncol 3: 367-374.
Google Scholar Cross Ref
Azzopardi JG (1979) Problems in breast pathology. Major Probl Pathol 11: 1-466.
PubMed
Grabowski J, Saltzsterin SL, Salder G, Blair S (2009) Squamous cell carcinoma of the breast: A review of 177 cases. Am Surg 75: 914-917.
Google Scholar Cross Ref
Cornog JL, Mobini J,Steiger E (1971) Squamous carcinoma of the breast. Am J Clin Pathol 55: 410-417.
Google Scholar Cross Ref
Nakayama KAR, Tsuchiya A, Watanabe T, Furukawa Y, Nihei M, et al. (1993) Squamous cell carcinoma of the breast. Report of a case diagnosed by fine needle aspiration cytology. Acta Cytol 37: 961-965.
Google Scholar
Uzoaru I, Adeyanju M, Ray VH, Nadimpalli V (1994) Primary squamous cell carcinoma of the breast presenting as a nipple discharge. Acta Cytol 38: 112-113.
Google Scholar
Li Z, Li YT (1984) Squamous cell carcinoma of the breast. Am J Surg 147: 701-702.
Google Scholar Cross Ref
Tan YM, Yeo A, Chia KH, Wong CY (2002) Breast absesses as the initial presentation of squamous cell carcinoma of the breast. Eur J Surg Oncol 28: 91-93.
Google Scholar Cross Ref
Takahashi T, Akashi Tanaka S, Fukutomi T, Watanabe T, Katsumata N, et al. (2001) Two special types of breast cancer presenting as progressive disease after neoadjuvant chemotherapy with docetaxel-plus doxorubicin. Breast Cancer 8: 234-237.
Google Scholar Cross Ref
Mitra B, Pal M, Debnath S, Paul B, Saha TN, et al. (2011) Primary squamous cell carcinoma of breast with ipsilateral axillary lymph node metastasis: An usual case. Int J Surg Case Rep 2: 194-197.
Google Scholar Cross Ref
The Japanese Breast Cancer Society (2012) General rules for clinical and pathological recording of breast cancer. 17th ed. Tokyo: Kaneraha Publishing Company.
Google Scholar PubMed
Rosen PR, Oberman HA (1992) Squamous cell carcinoma. In: Atras of Tumror Pathology. Tumor of the mammary gland. Armed Forces Institute of Pathology, Washinton D.C. 203-206.
Oberman HA (1987) Metaplastic carcinoma of the breast: A clinicopathologic study of 29 patients. Am J Surg Pathol 11: 918-929.
Google Scholar Cross Ref
Honda M, Saji S, Horiguchi S, Suzuki E, Aruga T, et al. (2011) Clinicopathological analysis of ten patients with metaplastic squamous cell carcinoma of the breast. Surg Today 41: 328-332.
Google Scholar Cross Ref
Shigekawa T, Tsuda H, Sato K, Ueda S, Asakawa H, et al. (2007) Squamous cell carcinoma of the breast in the form of an intracystric tumor. Breast Cancer 14: 109-112.
Google Scholar Cross Ref
Song Y, Liu X, Zhang G, Song H, Ren Y, et al. (2013) Unique clinicopathological features of metaplastic breast carcinoma compared with invasive ductal carcinoma and poor prognostic indicatiors. World J Surg Oncol 11:129.
Google Scholar Cross Ref
Wright C, Angus B, Nicholson S, Sainsbury JR, Cairns J, et al. (1989) Expression of c-erb-2 oncoprotein: A prognostic indicator in human breast cancer. Cancer Res 49: 2087-2090.
Google Scholar
Gupta C, Malani AK, Weigand RT, Rangineni G (2006) Pure primary squamous cell carcinoma of the breast; A rare presentation and clinicopathologic comparison with usual ductal carcinoma of the breast. Pathol Res Pract 202: 465-469.
Google Scholar Cross Ref
Kashiwagi S, Okuno T, Ishihara S, Ishii M, Asano Y, et al. (2013) Effectiveness of eriburin chemotherapy for squamous cell carcinoma of the breast. Jpn J Cancer Chemothrerapy 40: 2369-2371.
Google Scholar
Leiman G (1982) Squamous carcinoma in breast aspiration cytology. Acta 25: 196-198.
Takiguchi S, Yayoi E, Furukawa J, Takahashi N, (1996) Two cases of primary and metastatic squamous cell carcinoma of the breast. J Jpn Surg Assoc 57: 67-70.
Google Scholar Cross Ref
Kadoya T, Akimoto N, Kuroda S, Koide K, Sakimoto H, et al. (2006) A case of squamous cell carcinoma of the breast with profound expression of epidermal growth factor receptor. J Jpn Surg Assoc 67: 1227-1231.
Google Scholar Cross Ref
Dejager D, Redlich RN, Dayer AM, Davis HL, Komorowski RA, et al. (1995) Primary squamous cell carcinoma of the breast: sensitivity to cisplatinum-based chemotherapy. J Surg Oncol 59: 199-203.
Google Scholar Cross Ref
Murialdo R, Boy D, Musizzano Y, Tixi L, Murelli F, et al. (2009) Squamous cell carcinoma of the breast: A case report. Cases J 2: 7336-7339.
Cross Ref
Hiramatsu K, Kato K, Hirata A, Matusba H, Hara T, et al. (2007) A resected case of squamous cell carcinoma of the breast successfully treated with FU plus cispatin (CDDP) adjuvant therapy against recurrent metastases. Gan To Kagaku Ryoho 34: 443-446.
Google Scholar
Kathy M, Molin W, Julie G (2007) Paclitaxel plus bevacizumab versus paclitaxel for metastatic breast cancer. New Engl J Med 26: 2666-2676.
Google Scholar Cross Ref
Gunter VM, Holger E, Mahdi R (2012) Neoadjvuant chemotherapy and bevacizumab for HER2-negative breast cancer. New Engl J Med 366: 299-309.
Google Scholar Cross Ref
Harry DB, Gong T, Priya R, Geyer Jr CE, Robidoux A, et al. (2012) Bevacizumab added to neoadjuvant chemotherapy for breast cancer. New Engl J Med 366: 310-320.
Gogle Scholar Cross Ref
Gupta GK, Collier AL, Lee D, Hoefer RA, Zheleva V, et al. (2020) Perspecitives on triple-negative breast cancer: current treatment strategies, unmet needs, and potential targets for future therapies. Cancer 12: 2392.
Google Scholar Cross Ref
Takashima T, Murai H, Hara F, Matsubara N, Saito T, et al. (2016) Taxanes versus S-1 as the first-line chemotherapy for metastatic breast cancer (SELECT BC): An open-label, non-inferiority, randomized phase 3 trial. Lancet Oncol 17: 90-98.
Google Scholar Cross Ref
Yamamoto D, Iwase S, Tshubota Y, Ariyoshi K, Kawaguchi T, et al. (2015) Randomised study of orally administered fluorinated pyrimidines (capetitabine versus S-1) in women with metastatic or recurrent breast cancer: Japan Breast Cancer Research Network 05 Trial. Cancer Chemother Pharmacol 75: 1183-1189.
Google Scholar Cross Ref
Yokota T, Onozawa Y, Boku N, Hamauchi S, Tsushima T, et al. (2001) S-1 monotherapy for recuucrent or metastatic squamous cell carcinoma of the head and neck after progression to platinum-based chemotherapy. Jpn J Clin Oncol 41: 1351-1357.
Google Scholar Cross Ref
Aoki Y, Ochiai K, Lim S, Aoki D, Kamiura S, et al. (2018) Phase III study of cisplatin with or without S-1 in patients with stage IVB, recurrent, or persistent cercical cancer. Cancer 119: 530-537.
Google Scholar Cross Ref
Okamoto I, Yoshida H, Morita S, Ando M, Takeda K, et al. (2010) Phase III trial comparing oral S-1 plus carboplatin with paclitaxel plus carboplatin in chemotherapy-naïve patients with advanced non-small-cell lung cancer: Results of a West Japan Oncology Group Study. Clin Oncol 28: 5240-5246.
Google Scholar Cross Ref
Kubota K, Sakai H, Katakami N, Nishio M, Inoue A, et al. (2015) A randomized phase III trial of oral S-1 plus cisplatin versus docetaxel plus cisplatin in Japanese patients with advanced non-small-cell lung cacner: TOCOG0701 CATS trial. Ann Oncol 26: 1401-1408.
Google Scholar Cross Ref
Basch E, Prestrud AA, Hesketh PJ, Bohlke K, Barbour SY (2017) Antiemetics: American Society of Clinical Oncology clinical practice guideline update. J Clin Oncol 29: 4189-4198.
Google Scholar Cross Ref
Wang H, Yang X (2017) Association between serum cytokines and progressin of breast cancer in the Chinese population. Medicine 96: 8840.
Google Scholar Cross Ref