Case Report, Clin Oncol Case Rep Vol: 3 Issue: 3
Uveitis Induced by Brentuximab Vedotin-A Novel Adverse Response to Antibody-Drug Conjugate Therapy
Gal Antman1*, Gali Abrahami2, Ori Berliner1, Rita Erlich1,3, Ehud Reich1,3, Michal Kramer1,3 and Yael Sharon1
1Department of Ophthalmology, Rabin Medical Center, Petah, Tikva, Israel
2Department of Pediatric Hemato-Oncology, Schneider Children's Medical Center of Israel, Petah, Tikva, Israel
3Sackler Faculty of Medicine, Tel Aviv University, Tel Aviv, Israel
*Corresponding Author : Gal Antman, Department of Ophthalmology
Rabin Medical Center, Petah-Tikva, Israel
E-mail: Antmangal@gmail.com
Received: March 06, 2020 Accepted: March 16, 2020 Published: April 03, 2020
Citation: Antman G, Abrahami G, Berliner O, Erlich R, Reich E, et al. (2020) Uveitis Induced by Brentuximab Vedotin-A Novel Adverse Response to Antibody- Drug Conjugate Therapy. Clin Oncol Case Rep 3:3.
Abstract
Purpose: To report a novel ocular inflammatory adverse event to brentuximab vedotin, an anti-CD-30 agent, in a young patient with Hodgkin's lymphoma. Methods: Case report Results: A 19-year-old female presented with bilateral profound decreased vision due to anterior and intermediate uveitis while being treated with brentuximab, for recurrence of Hodgkin's lymphoma. Treatment with brentuximab was halted and the patient was treated with intravenous steroids and improved dramatically. Infectious and masquerade etiologies were ruled out. Conclusion: This is the first report of an ocular inflammatory adverse event to brentuximab as a monotherapy. Despite its rarity, ocular responses to biologic agents should be added to the differential diagnosis of intraocular inflammation and treating physicians should be aware of this potential side effect. It is suggested that the American Society of Clinical Oncology Guidelines for the management of immune-related adverse events in patients treated with immune checkpoint inhibitor agents be employed in these cases as well.
Keywords:
Uveitis; Brentuximab vedotin; Adverse event; Hodgkin's lymphoma
Introduction
Brentuximab vedotin is an anti-CD-30 antibody-drug conjugate, manufactured by Seattle genetics. It is the first drug since 1977 that has been approved for the treatment of Hodgkin's lymphoma (HL) in patients who relapsed or have refractory disease after autologous stem cell transplantation or failed to respond to two different chemotherapy combinations [1]. The toxicity profile of the drug is relatively tolerable and no ocular toxicities have been reported so farn [2,3]. We hereby report a case of an acute bilateral severe anterior and intermediate uveitis in an HL patient treated with brentuximab vedotin for six months.
Case Report
A 19-year-old female with a history of HL presented with abrupt onset ocular pain, photophobia, redness and blurred vision in both eyes that began one day earlier. Ocular examination was compatible with severe, bilateral, abrupt onset of anterior and intermediate uveitis. Her past ocular history was unremarkable. Past systemic history included stage 2 HL, diagnosed at age 16 with neck and mediastinal involvement. The patient was treated with two chemotherapy trials of OEPA (Oncovin, Etoposide, Prednisone, and Adriamycin) and COPDAC (Cyclophosphamide, Vincristine, Dacarbazine) without radiation and was disease-free for 2.5 years. Six months before her ocular presentation, her disease relapsed and she was treated with 3 cycles of ICE (Isophosfamide, Carboplatin, and Etopside). Thereafter, she had undergone autologous peripheral stem cell transplantation followed two months later by maintenance therapy of brentuximab vedotin. Additional prophylactic treatment included amoxicillin, acyclovir, and trimethoprim-sulfamethoxazole.
Brentuximab veotin was given every 3 weeks. Two weeks after the 7th course, the patient presented with an abrupt onset of ocular pain, redness and blurry vision in both eyes (OU). Her best-corrected visual acuity (BCVA) was 20/20 bilaterally. Ocular examination revealed 2+ conjunctival and ciliary injection, clear cornea, barely responsive and irregular pupils with 360 degrees of posterior synechiae and deep anterior chambers (AC) with +3 cells and +2 flare in both eyes (according to the standardization of uveitis nomenclature for reporting clinical data classification) [4]. Despite the limited view, inflammation was evaluated as anterior only, with no involvement of the posterior segment. B-scan ultrasonography did not reveal any vitreal opacities or posterior involvement and Optical Coherence Tomography (OCT) showed normal retina and no macular edema. Blood and urine cultures were taken to rule out infection, and the patient began intensive treatment with topical steroids, cycloplegic agents and pupil dilating drops. Due to a lack of response and fibrin formation in the AC of both eyes, oral prednisone 40 mg was added the next day. However, the patient's condition did not improve and even deteriorated despite treatment. On day 3, her vision was Counting Fingers (CF) in both eyes and a dense fibrinous membrane was observed in the AC (Figure 1) that blocked posterior view bilaterally. Nevertheless, symptomatic improvement under systemic therapy was noted. Infiltrative etiology was also ruled out to the best of our ability, by B-scan ultrasonography and Ultrasound Biomicroscopy (UBM) (Figure 2).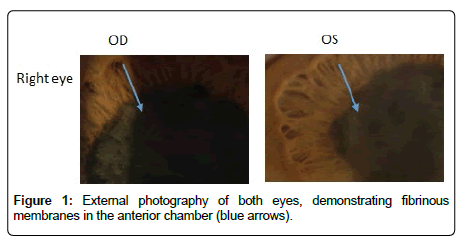 Figure 1: External photography of both eyes, demonstrating fibrinous membranes in the anterior chamber (blue arrows).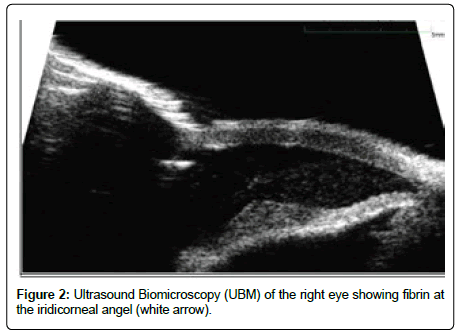 Figure 2: Ultrasound Biomicroscopy (UBM) of the right eye showing fibrin at the iridicorneal angel (white arrow).
Owing to the remarkable subjective improvement in pain under steroidal treatment, the absence of systemic symptoms and signs, the simultaneous bilateral involvement, the abrupt onset and with no posterior segment findings at presentation, an inflammatory etiology was primarily suspected.
In a specialist panel that included uveitis, tumors and retina specialists and consultation with the patient's treating oncologist, the treatment with brentuximab medication was suspected to be the culprit. Brentuximab was discontinued and the patient was started on intravenous (IV) methylprednisolone 1 gram per day, for 3 days. Once the IV treatment was completed, her BCVA improved to 20/25 in the right eye and 20/45 in the left eye and the patient continued treatment with 60 mg of oral prednisone. Prednisone was tapered down by 10 mg every two weeks according to the guidelines for the use of immunosuppressive drugs in patients with ocular inflammatory disorders [5] as was her topical therapy.
Infectious and immune-disease related serologic blood and urine tests were negative. Cell blood counts were normal on the day before the diagnosis of uveitis with 4,200 white blood cells (24.5% lymphocytes and 50% neutrophils) and hemoglobin 12 gm/dL. C-reactive Protein (CRP) and Erythrocyte Sedimentation Rate (ESR) was elevated (7.72 mg/dl and 62 mm/1hour, respectively). Two weeks later, the additional improvement was noted, reaching BCVA of 20/20 bilaterally and with +1 cells and +0.5 flare in the AC of both eyes. After the AC inflammation subsided, the view of the vitreous cleared and a few snowballs were noticed bilaterally. Six weeks after the onset of symptoms her AC cleared completely with the disappearance of the snowballs from the vitreous and marked improvement in the posterior synechiae (Figure 3). Brentuximab was not renewed. A flareup of her uveitis (cells+3, flare+3 in the AC and cells+1 in the anterior vitreous bilaterally) was observed 3 months after the discontinuation of brentuximab, while steroidal therapy was gradually tapered (prednisone 2 mg per day and topical steroids once daily). She was then treated with topical steroids, 4 times daily and cycloplegic drops with significant improvement. No other flare-ups were observed since then.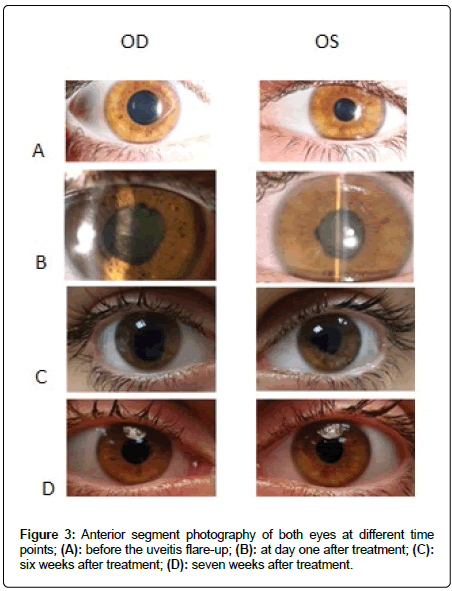 Figure 3: Anterior segment photography of both eyes at different time points; (A): before the uveitis flare-up; (B): at day one after treatment; (C): six weeks after treatment; (D): seven weeks after treatment.
Discussion
In this case report, we presented a 19-year-old HL patient with abrupt bilateral anterior and intermediate uveitis, while being treated with brentuximab vedotin. Treatment with brentuximab was stopped and IV steroids were induced. A fast and dramatic improvement was noted.
There is emerging case reports of patients treated with different biologic agents that developed uveitis as an adverse event. As far as we know, uveitis induced by brentuximab vedotin was previously reported only when used in combination with another immune checkpoint inhibitor (ICI) [3]. Diefenbach CS et al. compared different immune checkpoint inhibitors therapies, taken together with brentuximab vedotin, and found no increased risk for uveitis in both groups [6,7].
The ICI family is a group of immunomodulatory medications that are known to be associated with uveitis [8].
Temporal relations between ICI agents and the occurrence of uveitis ranged from several weeks to months after treatment initiation [9]. Similarly, in our case uveitis appeared 6 months after treatment was initiated. Corticosteroid treatment resulted in good visual outcomes in the majority of cases [9], with a resolution of the inflammatory process.
Since there are no specific guidelines for brentuximab ocular toxicity treatment, we suggest using the American Society of Clinical Oncology (ASCO) practice guidelines for the management of immune-related adverse events in patients treated with immune checkpoint inhibitor therapy [10]. Our patient was treated according to these guidelines and improved dramatically after ruling out infectious and infiltrative etiologies. There was a debate whether brentuximab should be discontinued in this case since there was no better alternative therapy to offer the patient for her HL, yet the decision was to discontinue the treatment due to the profound decrease in vision to counting fingers in both eyes, supported by the remission status of the patient's systemic disease. According to the ASCO guidelines and the European Society for Medical Oncology (ESMO) guidelines for the management of toxicities from immunotherapy, ocular side effects from immune therapies are rare (<1%) [11].
Conclusion
Nevertheless, treating physicians should be aware of this ocular side effect and keep a high level of suspicion in patients treated with biologic therapies.
References