About the Journal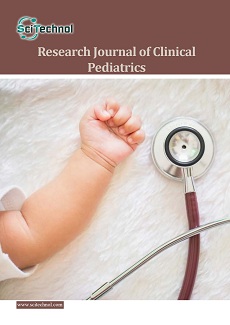 Research Journal of Clinical Pediatrics is an Open Access, online Journal dedicated to publish most reliable source of information current medicine and research trends on Pediatric Medicine for the health care of infants, children, and adolescents through the study of pediatric diseases, diagnosis, treatment and management. The Journal aims to promote basic, translational and clinical sciences on all areas of Pediatric research in all subspecialties.
Submit your manuscript at Online Submission System
Submit Manuscripts as e-mail attachment to the Editorial Office at manuscripts@scitechnol.com
Research Journal of Clinical Pediatrics focuses on the following areas, but not limited to:
General Pediatrics
Neonatology
Developmental Pediatrics & Neuropsychology
Pediatric Critical Care
Adolescent Medicine
Pediatric Cardiology
Pediatric Pulmonary Medicine
Pediatric Endocrinology
Pediatric Gastroenterology
Pediatric Hematology & Oncology
Pediatric Infectious Diseases
Allergy & Immunology
Pediatric Nephrology
Pediatric Rheumatology
Pediatric Surgery
Any article pertaining to Pediatric Research will be considered. Review processing is performed by the editorial board members of Research Journal of Clinical Pediatrics or outside experts; at least two independent reviewers approval followed by editor approval is required for acceptance of any citable manuscript.
General Pediatrics
Pediatrics is a branch of medicine that deals with the development, care, and diseases of babies and children. The age limit usually ranges from birth up to 18 years of age and until age 21in some Countries. A medical practitioner who specializes in this area is known as a pediatrician.
Pediatric Infectious Diseases
Pediatric Infectious Disease is an illness caused when a child is attacked by a pathogen. Pathogens such as bacteria, viruses, and other germs are microscopic and can infect the child rapidly by replication. Infectious disease, also known as transmissible disease or communicable disease. Some infectious diseases are contagious, infected person can make other person sick. The pathogen can get from one organism to another through air, food, water, blood, or physical touch.
Neonatology
Neonatal means new born. Neonatology is a branch of pediatrics that studies the care, development, and diseases of newborn infants.
Adolescent Medicine
Adolescent medicine focuses on the physical, psychological, social, and sexual development of adolescents and young adults. Adolescent medicine involves understanding the unique medical and behavioral issues associated with this patient population, and may include preventive, acute, and chronic care of these individuals.
Developmental Pediatrics & Neuropsychology
Developmental Pediatrics includes treatment for children, adolescents, and their families with a wide range of developmental and behavioral difficulties and Pediatric neuropsychology studies the relationship between brain health and behavior in children.
Pediatric Critical Care
Pediatric Critical Care medicine deals with the diagnosis and management of life threatening conditions requiring invasive monitoring.
Pediatric Cardiology
Pediatric Cardiology deals with medical diagnosis and treatment of heart failure, congenital heart defects, coronary artery disease, valvular heart disease and electrophysiology.
Pediatric Pulmonary Medicine
Pediatric Pulmonary Medicine deals with the diagnosis and treatment of diseases related to lungs and respiratory system. In fact, Pulmonary Medicine manages diseases in the chest other than the heart. Pediatric Pulmonary Medicine deals with diseases involving the respiratory tract. It is also known as known as chest medicine and respiratory medicine.
Pediatric Endocrinology
Pediatric endocrinology deals with the disorders of endocrine glands, such as physical growth variations and sexual development in childhood, diabetes and other disorders of the endocrine glands.
Pediatric Gastroenterology & Hepatology
Pediatric Gastroenterology deals with the investigation and management of disorders related to gastrointestinal tract which includes oesophagus, stomach, pancreas, small intestine and colon in infants and children. Whereas the Pediatric Hepatology is the branch of medicine that deals with liver, gallbladder, biliary tree, pancreas and management of their disorders.
Pediatric Hematology and Oncology
Pediatric Hematology & Oncology deals with the study of immunology, pathology, and pharmacology in relation to blood diseases and cancer in children. Pediatric Hematology is a branch of medicine concerning the diagnosis and treatment of blood diseases in childhood and Pediatric Oncology is a branch of medicine that deals with the prevention, diagnosis and treatment of cancer in children.
Allergy & Immunology
Allergy is a hypersensitivity reaction of the immune system. Allergy may involve more the one type of reaction. An allergy is a immune reaction to something that does not affect most other people. Substances that often cause reactions are Pollen, Dust mites, Mold spores, Pet dander, Food, Insect stings, Medicines. Risk factors of allergy are heredity, gender, race, and age.
Pediatric Neurology
Pediatric Neurology deals with diagnosis and management of neurological conditions in newborns, infants, children and adolescents. Pediatric neurologic disorder is a condition that is caused by a dysfunction in part of the brain or nervous system, resulting in physical and psychological symptoms.
Pediatric Ophthalmology
Pediatric Ophthalmology deals with eye diseases, visual development, and vision care in children. An ophthalmologist is a specialist in medical and surgical eye problems.
Pediatric Dermatology
Pediatric Dermatology deals with complex diseases of the neonates related to skin, hair, nails, etc. Pediatric dermatologists provide medical care for a variety of skin conditions like diagnosis and treatment of various skin conditions.
Pediatric Otolaryngology
Pediatric Otolaryngology is a branch of medicine that deals with the anatomy, function, and diseases of the ear, nose, and throat.
Pediatric Orthopedics
Pediatric Orthopedicsdeals with treatment and management of childrens musculoskeletal problems like Limb and spine deformities noted at birth or later in life like clubfoot, scoliosis, limb length differences Gait abnormalities broken bones. Bone or joint infections and tumors.
Pediatric Nephrology
Pediatric nephrology is concerned with kidney or urinary tract disease, bladder problems, kidney stones, or high blood pressure, etc. It is a specialty of medicine and pediatrics that concerns itself with the study of normal kidney function, kidney problems, the treatment of kidney problems and renal replacement. Pediatric nephrologists treat children from infancy through late adolescence.
Pediatric Oncology
Pediatric oncology is the branch of medicine concerned with the diagnosis and treatment of cancer in children. A medical professional who practices oncology is an oncologist. The types of cancers that develop in children are often different from the types that develop in adults.
Pediatric Rheumatology
Pediatric Rheumatology deals with the diagnosis and therapy of rheumatic diseases. Clinicians who specialize in rheumatology are called rheumatologists. Rheumatologists deal mainly with clinical problems involving joints, soft tissues, autoimmune diseases, vasculitis, and heritable connective tissue disorders.
Pediatric Urology
Pediatric Urology deals with illness or disease of the genitals or urinary tract which includes kidneys, ureters and bladder. Pediatric urologists provide care for both boys and girls ranging from birth to early adult age.
Pediatric Surgery
Pediatric surgery is a subspecialty of surgery including the surgery of embryos, newborn children, youngsters, youths, and youthful grown-ups. Pediatric surgery is defined as the diagnostic, operative, and postoperative surgical care of patients from prenatal diagnosis through adolescence with congenital and acquired anomalies and diseases, be they developmental, inflammatory, neoplastic, or traumatic.
Child Psychology
Child psychology which also called as child development, is the study of the psychological processes in children. Child psychology deals with the mental power or an interaction between the conscious and sub conscious element in a child.
Fast Editorial Execution and Review Process (FEE-Review Process):
Research Journal of Clinical Pediatrics is participating in the Fast Editorial Execution and Review Process (FEE-Review Process) with an additional prepayment of $99 apart from the regular article processing fee. Fast Editorial Execution and Review Process is a special service for the article that enables it to get a faster response in the pre-review stage from the handling editor as well as a review from the reviewer. An author can get a faster response of pre-review maximum in 3 days since submission, and a review process by the reviewer maximum in 5 days, followed by revision/publication in 2 days. If the article gets notified for revision by the handling editor, then it will take another 5 days for external review by the previous reviewer or alternative reviewer.

Acceptance of manuscripts is driven entirely by handling editorial team considerations and independent peer-review, ensuring the highest standards are maintained no matter the route to regular peer-reviewed publication or a fast editorial review process. The handling editor and the article contributor are responsible for adhering to scientific standards. The article FEE-Review process of $99 will not be refunded even if the article is rejected or withdrawn for publication.

The corresponding author or institution/organization is responsible for making the manuscript FEE-Review Process payment. The additional FEE-Review Process payment covers the fast review processing and quick editorial decisions, and regular article publication covers the preparation in various formats for online publication, securing full-text inclusion in a number of permanent archives like HTML, XML, and PDF, and feeding to different indexing agencies.