About the Journal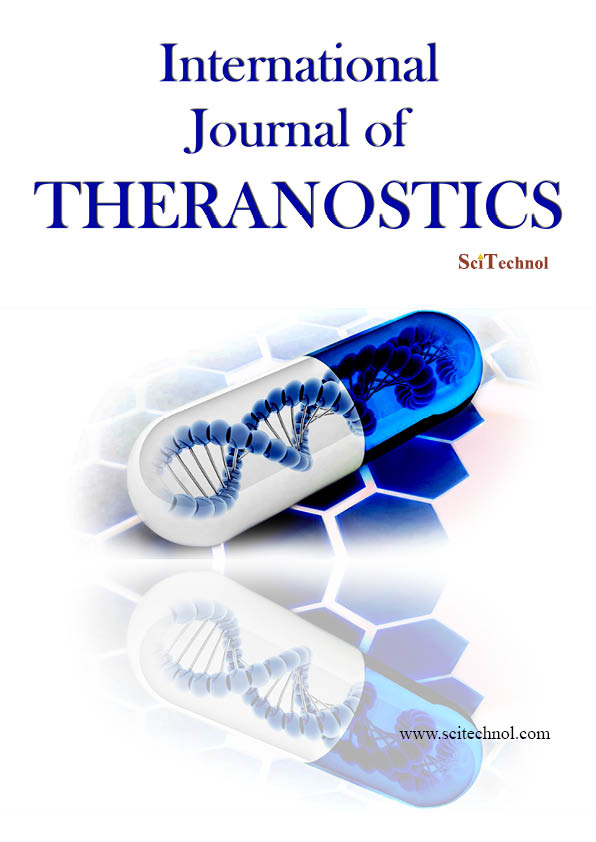 Theranostics is a powerful therapeutic paradigm to the world of medical diagnosis and clinical practice paving the path for personalized medicine. Theranostics, a merger between (portmanteau) diagnosis and therapy, provides unique approach with tailored treatment plan and the study explores targeted, safe, and efficient pharmacotherapy based on uniqueness of every individual thus resulting in right drug for the right patient at the right time.
International Journal of Theranostics is a new frontier among the medical journals to address the innovative and rapidly growing multidisciplinary field in healthcare diagnostics-"Theranostics", an amazing platform in providing the Precision Medicine to patients with the development of custom-made theranostic agents enabling disease diagnosis, therapy, monitoring of treatment progress and efficacy. The Journal aims to publish high quality scientific articles on all studies areas of Theranostics and the publications direct towards the better understanding of recent developments and advancing treatments for improved patient outcomes through potential theranostic applications.
All the articles submitted to International Journal of Theranostics will undergo double blind peer review process through the Editorial Manager System. The Editorial Manager System helps in maintaining the quality of the peer review process and provides easy access to the authors to track the status of the manuscript, including evaluation and publication in an automated way.
Submit manuscripts at Online Submission System or an e-mail attachment to the Editorial Office at manuscript@scitechnol.com
Theranostics
Theranostics is the development of molecular diagnostic tests and therapeutics used for a specific targeted site in the body as an interdependent, collaborative manner with the aim of individualizing treatment by targeting therapy to an individual's specific disease.
Diagnosis
Diagnosis is the process of determining the body condition of an individual or a disease and explains the symptoms and signs. The information required for diagnosing a person seeking medical care can be collected from the person's previous medical history and physical examination. We usually conduct some specific diagnostic procedures like diagnostic tests to get an accurate diagnosis.
Molecular Diagnostics
Molecular diagnostics is a collection of techniques or tests which are used to detect specific sequences in DNA or RNA or the proteins to diagnose a person with a disease, predict disease course, select treatments, and monitor the effectiveness of therapies.
Targeted Therapy
Targeted therapy is one of the methods used to destroy the diseased cell in the tissue. It is generally used for the treatment of a disease, identify and kill the specific infected cells by inhibiting their growth while doing minimum damage to the normal cells in the body. The Various targeted therapies involved in Theranostics are Drug release, Hyperthermia (elevating a body temperature), X-ray and Free radicals.
The advancements in the field of nanotechnology have been influencing the development of targeted therapies in Theranostics and hence the technologies like material science, Biochips, nano-analytical probes and nano-biotechnology are invented.
Biomarkers
A biomarker is a measurable indicator of particular disease state or some other physiological state of an organism that includes severity or presence of some disease. Biomarkers can be classified based on different parameters, including their characteristics, such as imaging biomarkers (computed tomography, positron emission tomography, magnetic resonance imaging) or molecular biomarkers.
Nanotheranostics
Nanotheranostics is a new field of medicine which uses nanotechnology for diagnostics and therapy of different diseases.The field is associated with many applications in the clinic, especially in cancer management which include patient stratification, drug-release monitoring, imaging-guided focal therapy and post-treatment response monitoring.
Pharmacotherapy
Pharmacotherapy is a therapy used for the treatment of a disease by pharmaceutical drugs. It is distinguished from other medical methods like Surgical, Radiation and Physical Therapies. Pharmacists are the skilled experts, ensures appropriate and safest drug for a specific disease, to recover from an infection/disease and also monitors patient's health. They need training and should have experience in the fields of Bio-medical Engineering, Pharmaceutical sciences and First-Aid.
Molecular Imaging
Molecular imaging is a type of medical imaging technique which allows physicians to view the body functioning and measurement of biological processes at the cellular and molecular level. Clinical applications include the use of nuclear medicine, magnetic resonance imaging (MRI) and ultrasound (US).
Image-guided Therapy
Image-guided therapy is a therapy which uses any form of medical imaging such as radiology, nuclear medicine, radiotherapy and surgical suites for planning, performing and monitoring surgical procedures and therapeutic interventions.
Fast Editorial Execution and Review Process (FEE-Review Process):
International Journal of Theranostics is participating in the Fast Editorial Execution and Review Process (FEE-Review Process) with an additional prepayment of $99 apart from the regular article processing fee. Fast Editorial Execution and Review Process is a special service for the article that enables it to get a faster response in the pre-review stage from the handling editor as well as a review from the reviewer. An author can get a faster response of pre-review maximum in 3 days since submission, and a review process by the reviewer maximum in 5 days, followed by revision/publication in 2 days. If the article gets notified for revision by the handling editor, then it will take another 5 days for external review by the previous reviewer or alternative reviewer.

Acceptance of manuscripts is driven entirely by handling editorial team considerations and independent peer-review, ensuring the highest standards are maintained no matter the route to regular peer-reviewed publication or a fast editorial review process. The handling editor and the article contributor are responsible for adhering to scientific standards. The article FEE-Review process of $99 will not be refunded even if the article is rejected or withdrawn for publication.

The corresponding author or institution/organization is responsible for making the manuscript FEE-Review Process payment. The additional FEE-Review Process payment covers the fast review processing and quick editorial decisions, and regular article publication covers the preparation in various formats for online publication, securing full-text inclusion in a number of permanent archives like HTML, XML, and PDF, and feeding to different indexing agencies.