Market Analysis, J Neurosci Clin Res Vol: 4 Issue: 1
9th Annual Congress on Neuroscience & Therapeutics
Humberto Mendes Faria Rodrigues
Editor-in-Chief and Founder, International Journal of Psychology & Neuroscience, Portugal, E-mail: [email protected]
Keywords:
Nervous System,Neurology,Neurophysiology,Cellular & Molecular Neuroscience,Cognitive & Behavioral Neuroscience,Systems Neuroscience,Neurodegeneration - Neurodegenerative Diseases,Neurological Disorders,Neuropsycology,Neuropathology,Neurosurgery,Neuroimaging
Introduction
The main theme of the conference is to provide unique ethical and responsive methods to all researchers towards Neuroscience and Therapeutics field. Along with the upcoming medical care towards the Neuroscience and to deal with most updated research and practical challenges adopted in the field of Neurology and neurologist is a physician specializing in neurology and trained to investigate or diagnose and treat neurological disorders. Neurologists may also be involved in clinical research, clinical trials, and basic or translational research. While neurology is a nonsurgical specialty, its corresponding surgical specialty is neurosurgery.
Why to organize this conference?
Most countries in the world now offer access to medical education. 9th Annual Congress on Neuroscience & Therapeutics provides a platform to encourage prevention and control of health against neurological disorders and stroke through a full range of information and access to the world education.
Importance and Scope
9th Annual Congress on Neuroscience & Therapeutics will be organized during May 22-23, 2020 in Osaka, Japan. The meeting highlights the theme "Explore and learn the recent trends in Neuroscience and Therapeutic Developments". There is increasing emphasis on the concept of value within the world of healthcare. Currently, there is no single means of accurately determining a neurosurgeon's value. It remains critical for all neurosurgeons to understand the essential regulatory and administrative principles regardless of the practice environment. Neuroscience Conference aims to gather eminent scientists, research scholars, notable surgeons, and educationists and professionals to express their views on the latest technologies, trends and concerns in Neuroscience & Therapeutics. It concentrates on addressing the constant effort being made by scientist and scholars to improve the existing and inventing novel technologies for future.
Target Audience: The target audiences are Directors/Managers/CEO's, Presidents & Vice Presidents, Neurologists, Neurosurgeons, Neurology doctors, Scientists and professors, Neuro research scholars, Medical Colleges, Research faculty, Academic Scientists, Students, Diagnostic laboratory professionals, Business Entrepreneurs, Industry professionals, Brand Manufacturers/ Marketers of Consumer Products, Marketing, Advertising and Promotion Agency Executives
% of Target Audience:
| | |
| --- | --- |
| Academia | 45% |
| Industry | 30% |
| Associations | 15% |
| Government | 10% |
Global Business & Research Value
The aspects of Neuroscience & Therapeutics with most reliable and comprehensive information. It covers wide range of topics related to Neurodegenerative disorders, Neuromuscular Diseases, Central Nervous System, Sleep Disorders, Epilepsy, Cerebrovascular Diseases, Movement Disorders, Trauma, Neuroendocrinology, Clinical Neurology, Neuropsychology, Neuropsychiatry, etc.
The global Neuromarketing technology Market is expected to reach USD 100 million by 2023 growing at a 12% CAGR over the forecast period 2017-2023.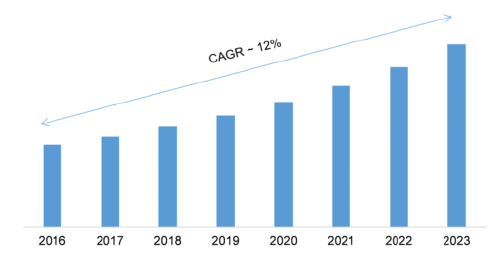 As stated by the WHO, France is the most depressed nation in the world (21%), and the USA is second (19.2%). French are spending more antidepressants than various countries. In France, 32% of males and 26% of women smoke daily. In France, with a population of 65 million people, approximately 12 million people face the ill impacts of another mental problem, where 83 million people encounter it. Women's rates are quite greater when compared to males (33.2: 21.7) percent expect mad confusion and use scattered substance (1.3 percent: 5.6 percent). 32% of these people were affected by one increasingly neurological problem, while 18% had two and 14% had at least three problems. 90% of suicides are because of psychological problem in high pay nations.
In 2015, the worldwide neuromarketing technology market achieved $21.0 million. From $50.3 million in 2016, the market is anticipated to achieve $22.0 million by 2021, rising at a compound annual growth rate (CAGR) from 2016 to 2021 by 18.0 percent. Neuroscience market is anticipated to rise at a CAGR of 6.4% CAGR during the forecast year 2018-2025. With healthy CAGR of 6.4%, the global neuroscience market is likely to grow from US$ 301.6 MN in 2016 to US$ 520.8 MN in 2025.
Following are the statistics percentage-wise:
| | |
| --- | --- |
| 2017 | 6.4% |
| 2019 | 19.2% |
| 2021 | 34.6% |
| 2023 | 43.8% |
| 2025 | 51.4% |
New York, Sept. 25, 2017 (GLOBE NEWSWIRE) - With solid CAGR of 6.4%, the worldwide neuroscience market is probably going to develop from US$ 301.6 Mn in 2016 to US$ 520.8 Mn by 2025 end. This development is principally fuelled by headway in neuroimaging and expanding R and D in neuroinformatics. "Neuroscience Market: Global Industry Analysis (2012-2016) and Forecast (2017-2025)," is the new production of Persistence Market Research that spotlights on merger and obtaining, key coordinated efforts and innovation, and innovation move understandings, which assume a crucial job in the global neuroscience advertise. North America and Europe are relied upon to command the global neuroscience showcase in the surveyed time of 8-years that is somewhere in the range of 2017 and 2025.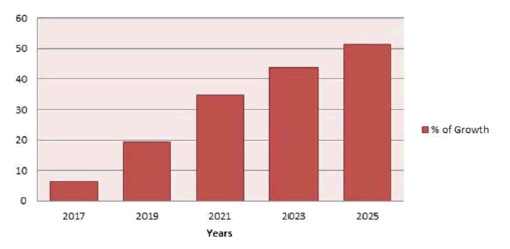 Top Neuroscience Universities Worldwide:
USA:
Columbia University, USA

University of California Los Angeles, USA

University of California San Diego, USA

University of California San Francisco, USA

Yale University, USA

Duke University, USA

Baylor University, USA

Boston University, USA

Emory University, USA

Capella University, USA

Johns Hopkins School of Medicine, USA
University of North Carolina Chapel Hill, USA

New York University, USA

University of Chicago, USA

Harvard University, USA

University of Pittsburgh, USA

University of Pennsylvania, USA

University of Southern California, USA

Vanderbilt University, USA

Washington University, USA
Europe:
University in Aachen, Germany

Sapienza University of Rome, Italy

Lubeck University, Germany

University in Skovde, Sweden

University in Helsinki, Finland

Public university in Barcelona, Spain

Maastricht University, Netherlands

Herdecke University, Germany

VU University Amsterdam, Netherlands

Magdeburg University, Germany

Munster University, Germany

Rovira i Virgili University, Spain

Radboud University, Netherlands

University of Gottingen, Germany

Wurzburg University, Germany

Tubingen University, Germany
Freiburg University, Germany

Aalto University, Finland

Heidelberg University, Germany

University in Pavia, Italy
Asia:
National University of Singapore, Singapore

Shanghai Jiao Tong University, China

Kyoto University, Japan

University of Hong Kong, China

University of Delhi, India

Peking University, China

The Hong Kong University of Science and Technology, China

Seoul National University, South Korea

The Chinese University of Hong Kong, China

National Taiwan University, Taiwan

Tsinghua University, China

Osaka University, Japan

Fudan University, China

Mahidol University, Taiwan

Korea Advanced Institute of Science and Technology, South Korea

Yonsei University, South Korea

Nanyang Technological University, Singapore
Top Neuroscience Societies Worldwide:
USA:
American Association of Neurological Surgeons, USA

Society for Neuroscience, USA

The American Society of Neuroimaging, USA

American Academy of Neurology, USA

American Association of Neuromuscular & Electrodiagnostic Medicine, USA

American Board of Psychiatry and Neurology, USA

American Epilepsy Society, USA

American Headache Society, USA

American Osteopathic Board of Neurology and Psychiatry, USA

American Society of Neurorehabilitation, USA

Epilepsy Association-Central, USA
Massachusetts Neurologic Association, USA

Alzheimer Association, USA

American Association of Neuro North, USA

American Neuromodulation Society, USA

National Institute of Neurological Disorders and Stroke

Neuropsychiatric Association, USA

North American Neuro-Ophthalmology Society, USA

Society for Behavioral and Cognitive Neurology, USA
Europe:
Czech Alzheimer Society, Czech Republic

Portuguese Society of Neurology, Portugal

World Federation of Neurology, United Kingdom

Dutch Society of Neurology, Netherland

Italian Society for Neuroscience, Italy

Alzheimer Society of Ireland, Ireland

Alzheimer Society of Finland, Finland

European Federation of Neurological Societies, Turkey

European Academy of Neurology, Austria

Cyprus Neurological Society, Cyprus

German Society of Neurology, Germany

Italian Society of Neurology, Italy

Czech Neurological Society, Czech Republic

French Society of Neurology, France
Asia:
The Japanese Society of Psychiatry and Neurology, Japan

Taiwan Movement Disorder Society, Taiwan

Taiwan Neurological Society, Taiwan

Neurological Society of India, India

Indonesian Neurology Association, Indonesia

Asian Society Against Dementia, Singapore

Chinese Stroke Association, China

Asian Australasian Society of Neurological Surgeons, Australia

Japanese Society of Neurology, Japan

Chinese Society for Neuroscience, China

Alzheimer's Disease Association, Singapore

Indian Academy of Neurology, India

Chinese medical association, China
List of Research Centres in the world:
USA:
Cognition and Neuroergonomics (CaN) Collaborative Technology Alliance, USA

Allen Institute for Brain Science, USA

Helen Wills Neuroscience Institute, USA

Center for Neural Science, USA

National Institute of Neurological Disorders and Stroke, USA

The Neurosciences Institute, USA

Picower Institute for Learning and Memory, USA

Center for Neurotechnology, USA

Texas Neurosciences Institute, USA

Zilkha Neurogenetic Institute, USA

Max Planck Florida Institute for Neuroscience, USA
Europe:
International Neuroscience Institute, Germany

Centre for Molecular Neurobiology Hamburg, Germany

Leibniz Institute for Neurobiology, Germany

Max Planck Institute of Neurobiology, Germany

International School for Advanced Studies, Italy

Institut Jean Nicod, France

Centre for Neuroscience and Cell Biology, Portugal

MRC Cognition and Brain Sciences Unit, UK

Wellcome Trust Centre for Neuroimaging, UK

Netherlands Institute for Neuroscience, Netherlands

Achucarro Basque Center for Neuroscience, Spain
Asia:
Bronowski Institute of Behavioural Neuroscience, Australia

Florey Institute of Neuroscience and Mental Health, Australia

Neuroscience Research Australia, Australia

Queensland Brain Institute, Australia

NeuroMat, Brazil

International Institute for Neuroscience of Natal, Brazil

National Institute of Mental Health and Neurosciences, India

Neurobiology Research Centre, India

National Neuroscience Institute, Singapore

Okinawa Institute of Science and Technology, Japan

RIKEN Brain Science Institute, Japan
List of Hospitals in Worldwide:
USA:
Mayo Clinic, Rochester, USA

New York–Presbyterian University Hospital of Columbia and Cornell, USA

Johns Hopkins Hospital, Baltimore, USA

Massachusetts General Hospital, USA

University of California–San Francisco Medical Centre, USA

Cleveland Clinic, USA

Ann and Robert H. Lurie Children's Hospital of Chicago, USA

North western Memorial Hospital, USA

NYU Langone Medical Centre, USA

OhioHealth Riverside Methodist Hospital, USA

Jefferson Hospital for Neuroscience, USA

National Hospital for Neurology and Neurosurgery, USA
Europe:
Heidelberg University Hospital, Germany

HELIOS Hospital Berlin-Buch, Germany

MEOCLINIC, Germany

Addenbrooke's Hospital, Cambridge, UK

Charing Cross Hospital, UK

Queen's Hospital, Romford, UK

Hurstwood Park Neurosciences Centre, UK

The Walton Centre for Neurology and Neurosurgery, UK

Greater Manchester Neurosciences Centre, UK

Lincoln County Hospital, UK

UCL Neuro-oncology (brain tumour unit) at NHNN, UK
Asia:
Bumrungrad Hospital, Thailand

Fortis Hospital Noida, India

Mount Elizabeth Novena Hospital, Singapore

Gleneagles Intan Medical Centre, Malaysia

Sarang Plus Hospital, South Koera

Artemis Hospital, India

The University of Tokyo Hospital, Japan

Bejing Puhua International Hospital, China

Gleneagles Hospital, Singapore

Asian Centre for Neurology & Neurosurgery, India

The National Capital Private Hospital, Australia
Funding Bodies in Global Health:
Council for Scientific and Industrial Research

Japan Science and Technology Agency

The Volkswagon Stifung Foundation

Austrian Science Fund

Taiwan Movement Disorder Society, Taiwan

Taiwan Neurological Society, Taiwan

Vienna Science and Technology Fund

National Fund for Scientific Research

Hungary Scientific Research Fund

Chinese Academy of Sciences

National Natural Sciences Foundation of China

Canadian Foundation for Innovation

The Brain and Behaviour Research Fund

Neuroscience Research Grants

Health Research Council of New Zealand
Conclusion:
Neuroscience 2020 will bring together experts like Neuroscientists, Clinicians, Neurogeneticst, Neurologists, Psychiatrists, Medical practitioners, Care specialists, academic professionals and students from all over the world to share an interest in the genetic pathways underlying neurological disorders, techniques to identify those genetic pathways, and the use of genetics and genomics as tools to develop therapeutics. The change in the act of neurology from an indicative to a diagnostic to a therapeutic specialty has empowered neurologists to settle on progressively critical choices and suggestions for patients. The new activity has recognized needs for examine that could, inside the following 10 years, significantly enhance the lives of individuals in danger of or living with neurological scatters.
References