Short Communication, J Pharm Sci Emerg Drugs Vol: 8 Issue: 2
Global Pharmaceutical and Pharma Industry Conference
Catherine Guillou
Gif Research Center, CNRS, LabEx, France
E-mail: [email protected]
Keywords:
Research Aspects
Importance & Scope:
Pharma Conference 2020 is a best platform to present and discuss current aspect in drug research and development. Pharmachemistry is the study of interaction of chemical with living systems. It is important to discuss the pharmacological basis of therapeutics in order to maximize the benefits and minimize the risks of drugs to recipients. Hence it will be the best platform for scientists, researchers, PhD Scholars, Graduates and Post Graduates involved with drug development.
Global Business & Research Value:
Global pharmaceutical market can be classified into OTC, generic, super generic and proprietary drugs. The proprietary drug segment is expected to drive the global pharmaceutical market during the forecast period followed by generic and OTC segment. Factors such as the growing pharmaceuticals industry coupled with advancements in functional excipients, rising adoption of orphan drugs, and increasing uptake of biopharmaceuticals, are driving the market for pharmaceutical excipients.
Global Pharmaceutical Chemicals Market: Key Research Aspects Market size is expected to grow from USD 1.0 billion in 2019 to USD 2.9 billion by 2024, at a Compound Annual Growth Rate (CAGR) of 22.2% during the forecast period. The major growth drivers of the graph database market include excellent real- time big data mining with visualizations of results, growing demand for systems' capability of processing low latency queries, and the adoption of Artificial Intelligence (AI)-based graph database tools and services.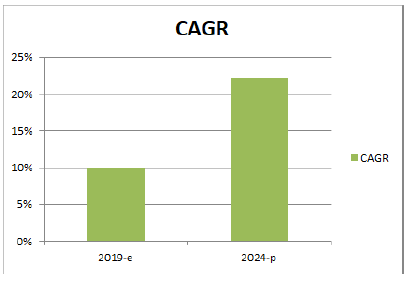 The total market value of drug delivery technology is estimated to reach USD 1,669.40 Billion by 2021 from USD 1,179.20 Billion in 2016, at a CAGR of 7.2% during the forecast period. As illustrated in the graph the worldwide prescription drug sales is $774 billion in 2017 and $811 in 2018. The prescription drug sales revenues are expected to reach over one trillion U.S. dollars by 2022. There is an increasing growth in sales of biological products as well.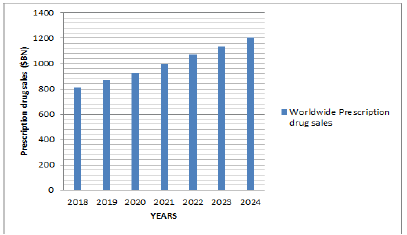 This report analyzes and forecasts the market for pharmaceutical chemicals at the global and regional level. The market has been forecast based on volume (Tons) and revenue (US$ Mn) from 2017 to 2025, considering 2016 as the base year. The study includes drivers and restraints of the global pharmaceutical chemicals market. It also covers impact of these drivers and restraints on demand for pharmaceutical chemicals during the forecast period. The report also highlights opportunities in the pharmaceutical chemicals market at the global and regional level.
The global pharmaceutical market has beensegmented as follows: Pharmaceutical Market: Type Analysis
 Solvents
 Reagents/Catalysts
 KSMs/intermediates
 Building blocks for APIs/Advanced intermediates
 Pharmaceutical chemicals Market: Drug Type Analysis
 OTC
 Generic
 Super generic
 Proprietary
Pharmaceutical and Pharma together make eminent growth in the pharmacy or medical industry. Knowledge of the oncepts of drug metabolism is useful in both the design of new drugs and the improvement of existing drugs. Thus it effects the living life in affective way.
For any details regarding conference, can reach us through e-mail at
[email protected] &
Call/WhatsApp to + 44 1993 460010
Jelvin Smith
Conference manager
Global Pharmaceutical and Pharma Industry Conference

Dubai, UAE